Jay DeMarcus of Rascal Flatts to publish debut
memoir with Zondervan
Sing On 
to Release April 2019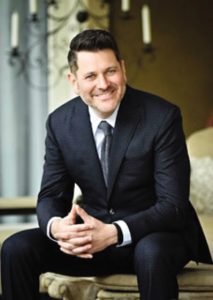 Grand Rapids, Mich., July 30, 2018 – Zondervan announced today a book contract with Jay DeMarcus, bassist, vocalist, pianist, producer and songwriter for the superstar vocal group Rascal Flatts. DeMarcus is represented by Kathy Armistead Olen with Atticus Brand Partners and world rights were acquired by Zondervan associate publisher Stephanie Smith and Matt Baugher, senior v-p of author and partnership development for HarperCollins Christian Publishing. 
"I'm really looking forward to sharing a pretty personal look at my path so far, as that isn't something I've done yet," said DeMarcus. "In Sing On, readers will hear never-before-told stories and get a glimpse into what it was like for me coming from Columbus Ohio, my journey to Nashville, and what it's like to live where I am right now. My ultimate goal is that the book will encourage people that no matter where they are in their lives, they can find hope, comfort and strength in their faith."
With no shortage of humor, heart, and off-the-cuff candor, Sing On gives readers a backstage pass to the story behind the music. Along the way, they'll find the same constant source of strength that DeMarcus has: hope that is powerful enough to hold them up through whatever twists and turns life brings their way.
With more than 23 million albums sold, Rascal Flatts is the most awarded country group in the last decade. The group's tenth and latest album, Back To Us (May 2017), focuses on the band's roots with DeMarcus taking the primary production reigns. Rascal Flatts recently kicked off their 25-city Back To Us Tour.
Zondervan's marketing and publicity team is planning a major national media launch and a multi-city book tour.
Zondervan is a world leading Bible publisher and provider of Christian communications.  Zondervan, part of HarperCollins Christian Publishing, Inc., delivers transformational Christian experiences through its bestselling Bibles, books, curriculum, academic resources and digital products. The Company's products are sold worldwide and translated into nearly 200 languages. Zondervan offices are located in Grand Rapids, Mich. For additional information, please visit www.zondervan.com.
Contact:  Jennifer VerHage  jennifer.verhage@harpercollins.com (616) 698-3331