Jane Kirkpatrick Wins Will Rogers Medallion Award
Contact: Lynnae Lubbers
(616)676-9185 x193
llubbers@bakerpublishinggroup. com 
Ada, Mich. (December 6, 2016)—The Memory Weaver by Jane Kirkpatrick recently won the Will Rogers Medallion Award in the Inspirational Fiction category. This award honors excellence in Western literature, and each entry must be an accurate reflection of Western Americana. The awards were presented at the Annual Awards Banquet at Cattleman's Steak House in the Fort Worth Stockyards on October 29. For the complete list of winners, please visit http://www. willrogersmedallionaward.net/ 2016-wrma-finalists.
Charles Williams, executive director of the Will Rogers Medallion Committee, calls The Memory Weaver "one of the most powerful books I have ever had the pleasure of reading. Jane Kirkpatrick has written an authentic, compelling story of what happens when faith is tested in the crucible of betrayal and tragedy and what it means to not only survive but to live out your life in the shadow of those events."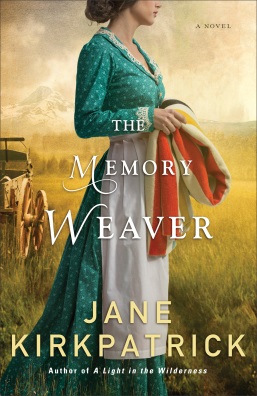 The Memory Weaver by Jane Kirkpatrick
(Revell; ISBN 9780800722326; ebook ISBN 9781441228208; $14.99)
Based on true events, The Memory Weaver is New York Times bestselling author Jane Kirkpatrick's literary journey into the past, where threads of Western landscapes, family, and faith weave a tapestry of hope inside every pioneering woman's heart. Eliza Spalding Warren was just a child when she was taken hostage by the Cayuse Indians during a massacre in 1847. Now the young mother of two children, Eliza faces a different kind of dislocation; her impulsive husband wants them to make a new start in another territory, which will mean leaving her beloved home and her mother's grave—and returning to the land of her captivity. Can she lay the dark past to rest and move on? Or will her childhood memories always hold her hostage?
Jane Kirkpatrick is the New York Times and CBA bestselling author of more than twenty-five books, including This Road We Traveled, A Light in the Wilderness, and A Sweetness to the Soul, which won the coveted Wrangler Award from the Western Heritage Center. Her works have been finalists for the Christy Award, Spur Award, Oregon Book Award, and Reader's Choice awards, and have won the WILLA Literary Award and Carol Award for Historical Fiction. Many of her titles have been Book of the Month and Literary Guild selections. Her works can also be read in more than fifty publications, including Daily Guideposts. Jane lives in Central Oregon.
Revell, a division of Baker Publishing Group, offers practical books that bring the Christian faith to everyday life. Whether through fiction, Christian living, self-help, marriage, family, or youth books, each Revell publication reflects relevance, integrity, and excellence.
Baker Publishing Group publishes high-quality writings that represent historic Christianity and serve the diverse interests and concerns of evangelical readers.
###