IVP honored with four 2019 Christianity Today
Book Awards
WESTMONT, IL—Christianity Today has released the winners of its 2019 Book Awards, and InterVarsity Press is pleased to announce that it received top honors in four categories: Church/Pastoral Leadership, Fiction, Missions/Global Church, and Politics and Public Life. IVP also received the Award of Merit in the Apologetics/Evangelism category.
The IVP title that received the 2019 Book of the Year in the Church/Pastoral Leadership category was Preaching as Reminding: Stirring Memory in an Age of Forgetfulness by Jeffrey D. Arthurs. Jason Helopoulos, author of The New Pastor's Handbook said, "This book just became required reading for any young pastor I have the privilege of ministering to in the future. Thankfully, the evangelical church over the past half century has emphasized the need for expositional preaching. Yet much of what passes as expositional preaching today lacks impact. It tends to feel more like a running commentary on the text, rather than preaching. Arthurs underscores the importance of remembering in preaching. He provides a helpful biblical theology of the role of memory, cites modern science's help in this area, and then applies the knowledge to the discipline of preaching. This book is engaging, informative, and lively—just like our preaching should be."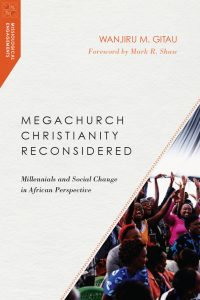 Megachurch Christianity Reconsidered: Millennials and Social Change in African Perspective by Wanjiru M. Gitau was the winner in the Missions/Global Church category. Building from a behind-the-scenes case study of Kenya's Nairobi Chapel and its "daughter" Mavuno Church, Gitau expands their story into a narrative that offers analysis of the rise, growth, and place of megachurches worldwide in the new millennium. Megachurch Christianity Reconsidered is part of the Missiological Engagements Series from IVP.
"Gitau's even-handed examination of Mavuno Church in particular (and megachurches in general) is a welcome addition to an ongoing conversation that tends either to glorify or denigrate the megachurch model," said Jaclyn Parrish, writer, editor, and social media associate for the International Mission Board. "Moreover, Gitau provides a poignant example of contextual understanding that Christians around the world would do well to emulate. Her examination of Mavuno Church's history and growth takes into full account the living, breathing world in which this congregation took root and grew. Sociological and cultural insights are combined with an incisive understanding of theology, politics, and globalization, opening new horizons for understanding how these factors affect the local church. As such, Gitau's work exemplifies the process of gospel contextualization for churches of every size and in every culture."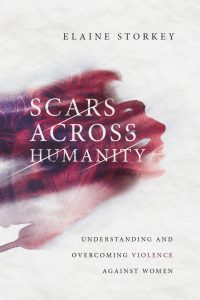 The top title in the Politics and Public Life category went to Scars Across Humanity: Understanding and Overcoming Violence Against Women by Elaine Storkey. Acts of violence against women produce more deaths, disability, and mutilation than cancer, malaria, and traffic accidents combined. Storkey offers a rigorously researched overview of this global pandemic, exploring how violence is structured into the very fabric of societies and cultures around the world.
Mae Elise Cannon, writer and minister, executive director of Churches for Middle East Peace, said, "Elaine Storkey courageously identifies how violence against women—be it physical, sexual, psychological, or economic—is, as her title suggests, a scar across humanity. Her work addresses the broad-sweeping manifestations of patriarchy in Christian history, the internalized gender discrimination and justification of abuse in societies around the world, and the church's inadequate response to these violations and injustices. But this book isn't just a broad-sweeping condemnation of Christian failure, as Storkey offers direct and clear recommendations for how violence against women can be overcome. Not an easy read, Scars Against Humanity is an essential work calling the Christian community to address one of the greatest injustices of our day."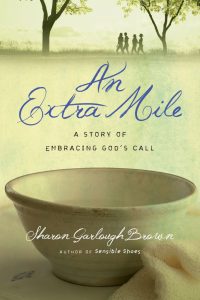 The top fiction winner for Christianity Today's 2019 Book Awards was An Extra Mile: A Story of Embracing God's Call by Sharon Garlough Brown. In this final installment of the Sensible Shoes Series, readers are invited to travel with these beloved friends as they endure trials that test their trust and their willingness to walk an extra mile.
"Even for those who have not read the first three books, Brown does a masterful job familiarizing readers with her four main characters and providing the necessary backstory," said Rebecca LuElla Miller, freelance writer and editor, blogger at A Christian Worldview of Fiction. "Each character is realistic and believable, faced with inner and outer struggles that intermingle in ways that readers may recognize. These aren't 'strong females' after the fashion of Hollywood blockbusters—they aren't leading armies or embracing their destiny as the chosen one—but they prove themselves strong in the truest sense of the word: they face the needs in their everyday lives, recognize their spiritual condition, and struggle to walk with Christ day by day."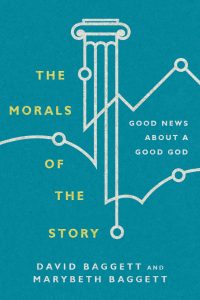 The Morals of the Story: Good News About a Good God by David Baggett and Marybeth Baggett received the Award of Merit in the Apologetics/Evangelism category. Tawa Anderson, professor of philosophy, Oklahoma Baptist University, said, "The Baggetts are convinced that the moral argument for God's existence and nature is among the most resonant and persuasive arguments available in contemporary society, and they do a masterful job of pooling the relevant resources. They highlight the inability of secular ethical theories to account for objective good and evil and human moral obligation. They also demonstrate the rich explanatory power of the Christian worldview in accounting for those same moral realities. If humanity's deep and unshakable moral intuitions are correct, then The Morals of the Story demonstrates that the rational observer should embrace Christian theism in response."
For a complete list of IVP award winners visit ivpress.com/award-winners.
About InterVarsity Press:  Founded in 1947 as an extension of InterVarsity Christian Fellowship/USA, InterVarsity Press serves those in the university, the church and the world by publishing thoughtful Christian books that equip and encourage people to follow Jesus as Savior and Lord in all of life. For more information, visit ivpress.com.
Contact: Krista Clayton | 630.734.4013 | kclayton@ivpress.com