IVP announces two new editors
WESTMONT, IL—InterVarsity Press is pleased to welcome Katelyn Beaty as a freelance acquisitions editor and to announce the promotion of Ethan McCarthy to assistant editor.
As a freelance acquisitions editor for IVP, Beaty will acquire six to eight books a year and work at IVP one day a week to meet with the publishing committee and editorial team about forthcoming titles. Beaty is an editor at large with Christianity Today, where she previously served as the magazine's youngest and first female managing editor.
"Katelyn Beaty has proven her ability to find new voices and develop them in her work with Christianity Today andHer.menutics," said Cindy Bunch, associate publisher, director of editorial. "The authors she has worked with in those settings sing her praises. We are eager to see her bring her skills to the book publishing world as she acquires new authors for us."
Beaty is the author of A Woman's Place: A Christian Vision for Your Calling in the Office, the Home and the World (Howard Books) and the companion group study guide from Abingdon Press. She has written for the New York Times, the Washington Post, andVox and has spoken at Q, the Festival of Faith and Writing, Jubilee, Movement Day, Princeton Theological Seminary, Biola University, Made to Flourish, and HOPE International. A native of Ohio and graduate of Calvin College, she lives in the Chicago suburbs, where she attends an Anglican church and enjoys running, reading, and the occasional karaoke outing.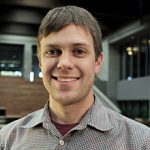 McCarthy joined IVP in 2014 as an academic editorial assistant and was promoted to assistant project editor in 2016. He has worked on titles such as Liturgy of the Ordinary, Movies Are Prayers, and Embodied Hope. In his role as assistant editor McCarthy will acquire and edit new titles. He will also work closely with Beaty throughout the editorial process for the books she acquires.
"Ethan McCarthy has been an excellent and constantly growing contributor in the InterVarsity Press editorial department," Bunch said. "He has already stepped in and developed a number of book projects. He brings insight, patience, and care to his work with authors. Promoting him into this new role working with authors was a natural next step."
McCarthy did his undergraduate studies at Toccoa Falls College, where he majored in biblical studies and English. He got his MDiv at Trinity Evangelical Divinity School and served as the editor of TEDS's graduate student paper, the Graduate Scrawl. McCarthy has also been a staff writer at Christ and Pop Culture since 2013. He lives in the Chicago area with his wife and three children.
Founded in 1947 as an extension of InterVarsity Christian Fellowship/USA, InterVarsity Press serves those in the university, the church and the world by publishing thoughtful Christian books that equip and encourage people to follow Jesus as Savior and Lord in all of life. For more information, visit ivpress.com.
Contact:  Krista Clayton | 630.734.4013 | kclayton@ivpress.com