IVP announces new branding, logo redesigns
WESTMONT, IL—As it nears its seventy-fifth year of publishing, IVP is pleased to announce a brand and logo redesign to carry them into the next decade.
With this redesign, IVP desired to celebrate their legacy while also leading the way in beauty and relevance within the publishing field. IVP's current branding and logo have been in place since 2006, and after gathering feedback from over four hundred fans, the creative team at IVP updated both in a modern and meaningful style.
"What sets IVP apart is our willingness to tackle tough topics, our commitment to diversity, and our desire to publish books that might be controversial in Christian circles," said Lorraine Caulton, director of creative and customer engagement. "In thinking of IVP's legacy, what we find is the constancy of our mission. We haven't just become smart and socially conscious, and we aren't following a trend; we pursue a mission. The fact that IVP is smart and reflective may conjure up different images to people. Our goal in a brand refresh is to ensure that the terms approachable and friendly also come to mind."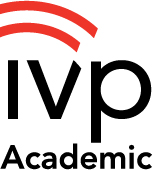 In examining IVP's history of publishing since 1947, the creative team was reminded of this legacy and the way it's displayed in its visual branding. Beyond evoking the idea of pages in a book, the three swooshes also represent IVP's aim to reach the university, the church, and the world. The new logo seeks to reinforce our purpose, clarify our communication with readers, and position IVP for a thriving future in the years ahead.
"I think good branding helps people to get to know us," said David Fassett, art director. "It helps us connect with our customers and also distinguishes us from others in the marketplace. Jeff Bezos, president of Amazon, said your brand is what other people say about you when you're not in the room. I think good branding gives us an opportunity to shape what other people think about us."
Based on further reader feedback, IVP will now be the public face of InterVarsity Press. Additionally IVP will become the imprint name for their trade line of books, which will also include the publishing lines of IVP Formatio and IVP Praxis. The books that were contained in the IVP Books and IVP Connect imprints will also be rebranded under this new IVP imprint. IVP Academic, whose logo is included in the redesign, will continue as the imprint that publishes reference series, monographs, and commentaries.
"Our previous logo had a serious and stately vibe that was appropriate for the time," Fassett continued. "And that tone made sense since it was developed alongside the launch of our academic imprint, which we wanted to appear thoughtful and credible. Our primary goal was to update our current branding so it continues the legacy of our current look but makes it more contemporary, approachable, versatile, and elevates IVP as the primary identifier among our audience."
For more information on the philosophy of this change, please visit ivpress.com/redesign.
Founded in 1947 as an extension of InterVarsity Christian Fellowship/USA, IVP serves those in the university, the church and the world by publishing thoughtful Christian books that equip and encourage people to follow Jesus as Savior and Lord in all of life. For more information, visit ivpress.com.
Contact: Alisse Wissman | 630.734.4059 | awissman@ivpress.com