"It's Not Supposed to Be This Way" by  Lysa
TerKeurst debuts on national bestseller lists
New York Times, Wall Street Journal, USA Today, Amazon, and Publishers Weekly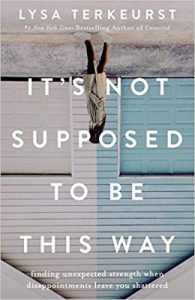 Nashville, TN (December 5, 2018) — It's Not Supposed to Be This Way: Finding Unexpected Strength When Disappointments Leave You Shattered (Thomas Nelson) by Lysa TerKeurst debuts after one week of release on seven national general market bestseller lists:
The New York Times (#4 Advice, How-To & Misc., December 2, 2018, #9 Advice, How-To & Misc., December 9, 2018);
USA Today (#12, November 22, 2018);
The Wall Street Journal (#3 Combined, November 23, 2018; #3 Hardcover Non-Fiction, November 23, 2018; #4 Nonfiction E-Book, November 23, 2018);
Amazon (#6 Most Sold, November 27, 2018);
Publishers Weekly (#7 Overall, November 26, 2018 and #3 Hardcover Non-Fiction, November 26, 2018).
HarperCollins fully expects It's Not Supposed to Be This Way to be a fixture on the ECPA Christian Bestsellers in December 2018 for November sales.
"This is so much more than a book for me," says Lysa TerKeurst. "If I could only give one life message, this would be it. I want people to know that while we trust a God who does allow hurt, we also trust a God who uses hurt for good. Every single time."
TerKeurst launched It's Not Supposed to Be This Way, with an exclusive in-studio interview with The Today Show (November 8, 2019). TerKeurst was also featured on national media including Focus on the Family Radio, New Life Live Radio, The 700 Club, The Dave Ramsey Show, Religion News Service, Life Today with James Robison, Charisma.com, KLOVE, The Christian Post, iBelieve.com,  and more. Additonal interviews will come in December and early January 2019 including Carey Nieuwhof Leadership Podcast, The Happy Hour with Jamie Ivey, and Charisma Magazine. Also during January 2019, Proverbs 31 will host an online Bible Study with Lysa for more than 50,000 participants to discuss the themes of It's Not Supposed to Be This Way.
It's Not Supposed to Be This Way released alongside companion Bible study resources for individuals or groups.  A six-session DVD features teaching from Lysa TerKeurst, and a softcover Study Guide corresponds with the DVD sessions. The hardcover book, DVD and Study Guide are available separately or as a package. More information at www.ItsNotSupposedToBeThisWay.com.
Lysa TerKeurst is president of Proverbs 31 Ministries and the #1 New York Times bestselling author of Uninvited and The Best Yes. She writes from her sticky farm table and lives with her family in North Carolina. Connect with her at www.LysaTerKeurst.com.
Thomas Nelson is a world-leading publisher and provider of Christian content and has been providing readers with quality inspirational product for more than 200 years. As part of HarperCollins Christian Publishing, Inc., the publishing group provides multiple formats of award-winning Bibles, books, gift books, cookbooks, curriculum and digital content, with distribution of its products in more than 100 countries. Thomas Nelson is headquartered in Nashville, Tenn. For additional information visit www.thomasnelson.com.
Contact: Jana Muntsinger, MMPR, jana@mmpublicrelations.com, 281-251-0480