Iron Stream Media's new imprint launches
inaugural title
Ascender Books offers spiritual refreshment for caregivers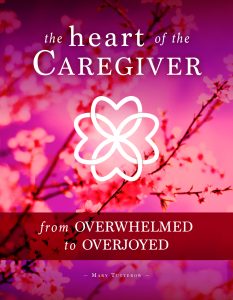 June 3, 2019—Iron Stream Media is proud to announce the premier title in its Ascender Books line: The Heart of the Caregiver: From Overwhelmed to Overjoyed. Author and caregiver Mary Tutterow wrote this biblically based study out of a deep desire to meet the spiritual needs of the caregiver. She saw a need in the marketplace for a resource that brings encouragement, healing, and hope to the spiritual lives of the growing number of caregivers worldwide. A transformational study, The Heart of the Caregiver urges the reader to seek God's life-changing love through Scripture each day—allowing the Holy Spirit to compel the caregiver to live out God's call to love others through service to them.
With nearly 40 million adults providing care for a family member or loved one, the need for caregiver resources are at an all-time high. "The timing of the release of this book could not be more perfect," says Tutterow. "The bipartisan legislation, RAISE (Recognize, Assist, Include, Support, and Engage) Family Caregivers Act, has been signed into law. When I wrote the study, it was on my heart to provide the church a tool to RAISE families just like ours!"
This resource can bring caregivers together and help them walk a tough path by providing encouragement and solace through God's Word. Ramona Richards, associate publisher for Iron Stream Media explains. "As a former, long-term caregiver, I recognized that Mary's work can touch the heart of people struggling with trials they never anticipated tackling. Caring for a loved one can drain you mentally and spiritually, and Mary speaks directly to the heart of those issues. I'm pleased we are able to launch our Ascender Books line with this invaluable resource."
Craig Johnson, executive pastor of Lakewood Church, in Houston, Texas, and founder of Champions Club, concurs, "When you are looking at overwhelming circumstances as a caregiver you need a guidebook that not only helps you on your journey but allows you to walk on the journey with others going through similar circumstances. I can't think of a better resource for caregivers that provides the experience, wisdom, and hope Mary has poured into this resource. You will move from victim to victor and find your joy in the journey is not only possible but probable."
Mary and her husband Winn have two adult children and live in Charleston, South Carolina. Their daughter Mary Addison has cognitive and physical challenges and an active seizure disorder. They also cared for Winn's mother through cancer and dementia. A former anchorwoman and marketing executive, Mary now writes, speaks, and leads online and in-person small groups for caregivers.