Iron Stream Media to acquire New Hope Publishers
New Hope Publishers to broaden missional reach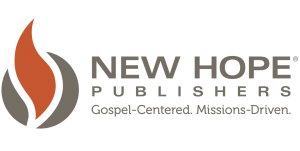 (BIRMINGHAM, Ala.) – Aug. 28, 2017 – Iron Stream Media will acquire New Hope® Publishers effective September 1, 2017, with plans to expand the impact for Christ as more readers engage in relevant, contemporary issues with a missional focus.
"With each book published by New Hope, we pray the content will transform the lives of believers and inspire them on their spiritual journey," said Sandy Wisdom-Martin, executive director/treasurer of national WMU and publisher of New Hope. "Because of Iron Steam Media's success in publishing and delivering solid, web-based Bible studies, we believe they are poised to position New Hope books and Bible studies for exponential impact for kingdom growth."
According to John Herring, president and CEO of Iron Stream Media, his company initially began as a part of Student Life. The titles and studies associated with Student Life Bible Study were sold to NavPress. After a brief time with NavPress and the Navigators, Life Bible Study was born as an independent company and expanded to include content for adults and children in addition to students.
"Now known as Iron Stream Media, we produce curriculum, discipleship materials, educational content and other tools for ministries and missions," Herring explained. "Much of our content is well-known by missionaries who use our studies at no cost in regions around the world. For our friends in the United States, we deliver incredibly beautiful Bible Study lessons designed to be taught in a variety of ways, keeping God's Word central in all we do. And, we do it very economically for our church partners.
"The Iron Stream team has a great fondness for New Hope Publishers," Herring continued. "We share a common love for the Bible. We also share a common love for all things 'mission.' The acquisition of New Hope by Iron Stream is a natural merging of ministry minds—a combination that will enable us to grow faster together than we can separately."
Both New Hope Publishers and Iron Stream media plan for a seamless transition. Iron Stream Media will welcome four New Hope Publishers staff members to their team and will continue to work at 100 Missionary Ridge in Birmingham, Ala., where Iron Stream also operates their business.
Wisdom-Martin said, "The name [New Hope Publishers] will remain the same. The mission will remain the same. The employees our authors talk to will remain the same. I have complete confidence that only God could have orchestrated such details, and we are excited to see where He leads."
About New Hope Publishers
WMU, auxiliary to the Southern Baptist Convention, began New Hope in 1985 as the book publishing imprint of WMU. In 1997, WMU launched New Hope Publishers as a separate publishing division to take WMU's evangelistic vision to a broader audience. Their books, fiction and nonfiction, received immediate acclaim and have won several awards. In 2009 and 2015, New Hope was chosen as publisher of the year by the Advanced Writers and Speakers Association (AWSA).
Representing more than 70 authors and more than 200 individual works, New Hope Publishers continues to provide books that challenge readers to understand and be radically involved in the mission of God. New Hope Publishers is a member of the Evangelical Christian Publishers Association (ECPA) and the Protestant Church-owned Publishers Association (PCPA).
About Iron Stream Media
Iron Stream Media derives its name from Proverbs 27:17, "As iron sharpens iron, so one person sharpens another." This sharpening describes the process of discipleship, one to another. With this in mind, Iron Stream Media provides a variety of solutions for churches, missionaries, and nonprofits ranging from in-depth Bible study curriculum and Christian book publishing to custom publishing and consultative services. Through our popular Life Bible Study and Student Life Bible Study brands, we provide web-based full-year and short-term Bible study teaching plans as well as printed devotionals, Bibles, and discipleship curriculum.