Iron Stream Media releases devotional featuring inspiring stories of NFL's best
Devotional offers an exciting glimpse into the faith lives of some of NFL's best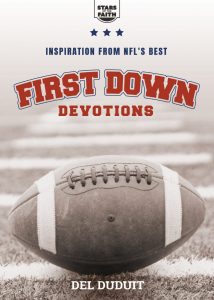 BIRMINGHAM: Iron Stream Media announces First Down Devotions: Inspiration from NFL's Best (Iron Stream Books) / August 5, 2019/ ISBN: 978-1-56309-231-2/ $12.99).
First Down Devotions takes an inside look at popular National Football League players, coaches, and the people who help shape them to explore their successes both on and off the gridiron. Recounting personal stories about their walk with Jesus Christ, these superstars serve God and provide positive stories to share with friends, children, and sports fans. Through daily devotions, these players and coaches will inspire you once more, but this time it will be you on the field of life. Get ready to score a touchdown in your own spiritual life.
Foreword by Williams White and featured players include: Kurt Warner, Andy Dalton, Jim Kelly, Kirk Cousins, and many more.
Advance Praise
"Inside this book, Del Duduit brings out obstacles faced by some of the most recognizable names in the National Football League. And how did they get through their trials? The same way I do. We let Christ fight our battles." —William White, retired NFL player
"Football fans will love First Down Devotions from Del Duduit. In addition to faith-filled testimony from some of our favorite players, Del offers practical, spiritually sound guidance for living effective Christian lives. A must-read." —Bruce A. Stewart, award-winning author of Sing Me Something Happy.
About the Author
Del Duduit is an award-winning sportswriter and author. He has been published in Clubhouse Magazine, Sports Spectrum, and on ToddStarnes.com. He is a contributor for Athletes in Action, The Christian View, Bridges Magazine, and PM Magazine. He is the coeditor for Southern Ohio Christian Voice and blogs weekly at delduduit.com. He lives in Lucasville, Ohio, with his wife Angie.
Media Inquiries: Meredith Dunn, Meredith@IronStreamMedia.com