Iron Stream Media and New Orleans Baptist Theological Seminary partner to publish comprehensive handbook on evangelism
Engage is a thorough guide to the daily ministry of sharing Christ with the world.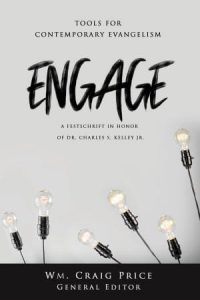 BIRMINGHAM (October 8, 2019) —Iron Stream Media in collaboration with New Orleans Baptist Theological Seminary announces the release of Engage: Tools for Contemporary Evangelism. The handbook will further Iron Stream and NOBTS's shared mission of evangelism and discipleship.
Engage contains more than thirty chapters and covers effective evangelism to various populations. The compilation handbook addresses the theology and context for evangelism while addressing practical strategies for sharing Jesus with children, senior adults, families, and those previously marginalized by the church. Thorough research and insights equip church leaders and those with a heart for evangelism to know how to share Christ in social work settings, missional contexts, and more.
The mission of New Orleans Baptist Theological Seminary is to equip leaders to fulfill the Great Commission and the Great Commandments through the local church and its ministries. Engage will serve this mission for years to come as it is referenced by seminary faculties, students, and the general population looking to learn more about effective evangelism.
Craig Price, general editor, remarked, "Engage holds a unique place in a wide offering of books on evangelism. We are excited to present a text with a diverse coverage of topics. These topics range from the biblical and historical basis for evangelism; theological issues in evangelism; a very large section on how to apply evangelistic principles in the local church; and we close with a section on preaching evangelistically and reaching multicultural groups with the gospel of Jesus Christ. This text will serve pastors, church staff, and church members alike, seminary students, and professors of evangelism."
"Iron Stream Media is honored to publish Engage as a collaborative work between multiple departments at New Orleans Baptist Theological Seminary. We are publishing it under the NOBTS imprint, which we will manage on behalf of the seminary. Hopefully Engage is the first of many collaborations. This was truly a labor of love on our part. We believe this work will be foundational for the work of evangelism for years to come and impact eternity for the kingdom. Dr. Price and the team of professors and friends on the project are to be commended. We look forward to a long future with NOBTS as we contemplate future projects," commented John Herring, CEO of Iron Stream Media.
Iron Stream Media derives its name from Proverbs 27:17, "As iron sharpens iron, so one person sharpens another." This sharpening describes the process of discipleship, one to another. Iron Stream Media provides a variety of solutions for churches, ministry leaders, and nonprofits that include in-depth Bible study curriculum, Christian book publishing, and consultative services. Iron Stream Media is the home of New Hope Publishers, Iron Stream Books, Ascender Books, and New Hope Kidz. Through the popular Life Bible Study and Student Life Bible Study brands, they also provide web-based, full-year and short-term Bible study teaching plans as well as printed devotionals, Bibles, and discipleship curriculum.
Media Contact: Meredith Dunn, Meredith@IronStreamMedia.com