International Book Award Winner and Bible of the Year, Cultural Backgrounds Study Bible, now available in NKJV
Also Now Available in Personal Size and Large Print in the NIV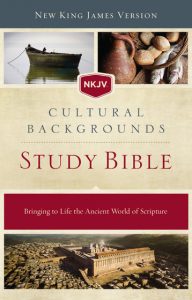 Grand Rapids, Mich., Aug. 22, 2017 — Because context changes everything, and because historical parables and stories can come to life with just a bit of insight, Zondervan is pleased to announce that the award-winning Cultural Backgrounds Study Bible was released in the New King James Version™ on August 22, 2017.
When it was released in the New International Version in August 2016, the Cultural Backgrounds Study Bible: Bringing to Life the Ancient World developed a new scriptural experience for Bible readers everywhere with the idea that clarity could be given to even the most well-known Bible stories.
The general editors of the Cultural Backgrounds Study Bible, John H. Walton and Craig. S. Keener, are experts in the field of ancient cultural origin, which allows them to create rich and engaging commentary for Bible readers to dive deeper into their study of the days before, during, and after Christ.
This Bible's unique offerings have been noticed and praised by industry organizations like American Book Fest, which awarded the NIV Cultural Backgrounds Study Bible the International Book Award and recognized it as Award-Winner in the "Religion: Christianity" category. The NIV Cultural Backgrounds Study Bible also received a 2017 Christian Book Award for Bible of the Year from the Evangelical Christian Publishing Association (ECPA).
"Since the majority of Bible readers shop with translation as their first priority, it is imperative that we introduce long-time NKJV Bible readers to this insightful, engaging commentary," says Melinda Bouma, associate publisher, Zondervan Bibles. "I trust NKJV readers will love and appreciate this study Bible every bit as much as NIV readers."
Additionally, due to consumer requests, the Cultural Backgrounds Study Bible is also available in new Large Print and Personal Size formats in the NIV translation.
To learn more, visit bibl.es/ContextChangesEverything.
To request review copies, contact Trinity McFadden at trinity.mcfadden@harpercollins.com.
Zondervan is a world leading Bible publisher and provider of Christian communications.  Zondervan, part of HarperCollins Christian Publishing, Inc., delivers transformational Christian experiences through its bestselling Bibles, books, curriculum, academic resources and digital products. The Company's products are sold worldwide and translated into nearly 200 languages. Zondervan offices are located in Grand Rapids, Mich.  For additional information, please visit www.zondervan.com.
Contact:  Trinity McFadden, Senior Manager of Publicity
616-698-3514 | trinity.mcfadden@harpercollins.com