Inspired by their own adoption journey and found family, Liz Marie and Jose Galvan introduce new Children's book
Dedicated to their son, "We Belong To Each Other" is available for pre-order now. On-sale everywhere books are sold March 9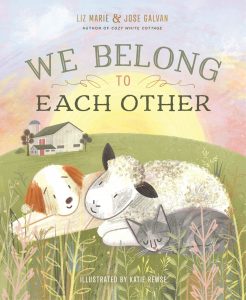 NASHVILLE, Tenn. (Feb. 24, 2021) – Popular cozy enthusiast, design influencer and "Cozy White Cottage" bestselling author, Liz Marie Galvan teams up with husband, Jose Galvan to share a message of acceptance and love in their first children's book, "We Belong To Each Other."
Liz Marie is a designer and shop owner (The Found Cottage) in Grand Rapids, Mich. She and veteran husband Jose Galvan live on a "farm, fixer-upper" from the mid-1800s. Fans of their style or those looking for home décor inspiration discover the most picturesque scenes, cozy settings and DIY ideas on her Liz Marie Blog and the Galvans' Instagram accounts, @lizmariegalvan and @whitecottagefarm. Visitors also will meet the Galvan family members – furry, fluffy, little and big humans — who call the White Cottage Farm home.
Readers will find the familiar cozy feels in "We Belong To Each Other" with illustrations reflecting Liz's coveted style and featuring some of the Galvans' own farm animal residents. "We Belong To Each Other" shares the sweet story of bringing their baby lamb, Grace, home to White Cottage Farm.
At first, Grace feels as if she doesn't belong because she is the only sheep at White Cottage Farm. But as she experiences the love of the other animals and of the kind man, woman and their baby, Grace begins to feel safe in her new home and recognizes that God provided her with a loving family.
"We Belong To Each Other" shares the message that every child needs to feel like they belong, regardless of differences. Little ones learn that families can come in all shapes and sizes – mixed, extended, adopted, fostered, friends chosen and even those of the furry or fluffy kind.
"'We Belong To Each Other' helps embody the message that families can look different, and home is where love is found," said Liz Marie. "We love the idea of helping families communicate about the topic of adoption or mixed families and bridging that conversation in a way that can help children more easily understand."
The Galvans' journey to building their family was one riddled with tumultuous life circumstances that were beyond their control. Remaining relentlessly faithful through the process, they found themselves blessed with answered prayers. Liz Marie and Jose have endured losing nine babies to miscarriages. They always had wanted to make a cozy home for themselves with children, and Liz Marie always aspired to create a welcoming space to return to when Jose was deployed. Through various twists and turns and guided by the power of faith, Liz Marie and Jose became parents of a little boy, Copeland Beau, through adoption. "We Belong To Each Other" opens with a dedication to Cope and his birth mother.
Jose shares, "We feel that keeping this conversation of being different but belonging to a place filled with love is a great message to share with Cope early and throughout his young life. It will help prepare us as parents to have conversations with him around his birth story."
"We Belong to Each Other" (ISBN# 9781400224746) will be released on March 9, 2021 everywhere books are sold.
About the Authors:
Liz Marie Galvan is a blogger, interior designer, and co-owner of the vintage home decor boutique The Found Cottage. Each month, hundreds of thousands of readers find design inspiration and DIY ideas at LizMarieBlog.com. Liz and her veteran husband, Jose, live on an 1800s farmhouse in Michigan with their dogs, cats, sheep, and rams. Learn more about their farmhouse renovation at their website, The White Cottage Farm. Liz has been featured on the Today Show, in Better Homes and Gardens and Country Living and has collaborated with Behr, Magnolia Home Paint, Kilz, Home Depot, TJ Maxx/HomeGoods, Home Depot, GMC, and HGTV.
Jose Galvan is the husband of home décor extraordinaire Liz Marie Galvan. Jose is a Marine Corps veteran, father, DIYer, and blogger. After countless deployments, three homes, and many amazing memories, Jose and Liz Marie moved back home to Michigan. In 2016 they followed their hearts to an 1800s farmhouse on seven acres and called it the White Cottage Farm. In 2019 the Galvans added their son, Copeland Beau, to the family. Now they share home remodels, DIYS, lifestyle vlogs, and everything in between. They have a unique and fun furry family of eight sheep, three dogs, a bunch of barn cats, plus a colony of bees.
About the Illustrator:  Katie Rewse is an illustrator based on the south coast of the UK, in Bournemouth. She graduated with a master's degree in illustration at the Arts University Bournemouth in 2017. When Katie is not illustrating from her little home studio by the sea, she enjoys exploring the coast with her husband in their camper van
About Tommy Nelson:  Tommy Nelson® is the children's division of Thomas Nelson. As a leading provider of Christian content, Tommy Nelson publishes a wide variety of high-quality, enjoyable products that are consistent with the teachings found in the Bible. Tommy Nelson's award-winning products are designed to expand children's imaginations and nurture their faith while inspiring them to develop a personal relationship with Jesus. For more information, visit www.tommynelson.com.
Media contact:  Natividad Lewis, Publicist, 931.698.9620  natividad.lewis@harpercollins.com