Inaugural ICREF event brings international
publishers together
Christian publishers from more than a dozen countries expressed their appreciation for ECPA's first International Christian Rights & Export Fair, held June 25-26 on the campus of Moody Bible Institute in Chicago.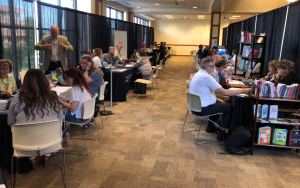 Twenty-eight American publishers, most of them members of ECPA, exhibited their books and Bibles at ICREF for the purpose of selling foreign rights and exports. Representatives from Australia, South Africa, Nigeria, Germany, England, South Korea, Brazil, Colombia, and several other countries traveled to Chicago to attend ICREF.
"Thank you for everything you did to make the event run so well," said Alexandra McDonald, Commercial Director for SPCK & IVP in London. "We'd definitely be interested in taking part again."
ICREF ran for two full days, with a full slate of appointments for the exhibitors.
"It was gratifying to see how busy the publishers were," said ECPA president Stan Jantz. "Between the International Christian Rights Fair in Krakow last March and this rights event in Chicago, we are seeing a growing international market for products produced by our members."
Moody Bible Institute was an ideal venue for ICREF. The staff and publishing team of Moody Publishers were gracious hosts, sponsoring a special reception for all attendees.
"The event was such a success that we have reserved the dates of June 23-24, 2020 for ICREF," said Jantz. "We're looking forward to returning to Moody for this valuable event."