In March, Christian comedian Bob Smiley and Focus on the Family
to release new middle-grade fiction book,
"Average Boy's Above-Average Year"
The book is the latest addition to Smiley's Average Boy™ line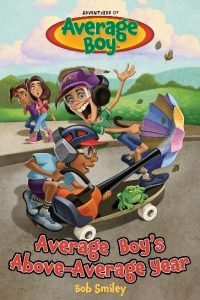 Carol Stream, Ill. (February 14, 2022) — In alliance with Tyndale House Publishers, Christian comedian Bob Smiley and Focus on the Family will release Average Boy's Above-Average Year, a new fiction book for middle-grade readers (ages 8–12), on March 8, 2022. As they follow along with Average Boy's hilarious antics and adventures through the school year, young readers will learn important biblical lessons that they can apply to their own lives.
Written with Smiley's signature humor, Average Boy's Above-Average Year is the latest addition to his popular Average BoyTM line, which presents stories about a very normal boy (in some very funny situations) who comes up with a godly solution to any problem that arises. The Average BoyTM line also includes a regular feature in Focus on the Family's Clubhouse magazine, two devotionals, and The Official Average Boy Podcast.
Bob Smiley is a longtime contributor to Focus on the Family publications (Breakaway, Brio, Clubhouse, Clubhouse Jr.) and has been doing standup comedy for over 20 years, touring with such bands as the Newsboys, Third Day, and Toby Mac.
For more information or for media inquiries, please contact Mariah Franklin at mariahfranklin@tyndale.com.
Average Boy's Above-Average Year by Bob Smiley
Softcover ISBN: 978-1-64607-058-9 | $12.99 | March 8, 2022
https://store.focusonthefamily.com/average-boys-above-average-year/
Focus on the Family, which reaches about 38 million people in 120 countries, is a global faith-based ministry that helps families thrive. Tyndale House Publishers is pleased to partner with Focus on the Family to help provide trusted resources for strengthening believers in their faith and sharing the gospel; building resilient marriages that reflect God's design; equipping parents to raise their children with a thriving faith; advocating for the preborn, orphaned and life at every stage; and engaging the culture through a biblical worldview. Visit Focus at FocusontheFamily.com or on Facebook and Twitter.
Since its founding in 1962, Tyndale House Publishers has been a voice to trust for generations of readers. Today, Tyndale is one of the largest independent Christian publishers in the world. Tyndale's mission is to make the Bible accessible to as many people as possible in language that they can relate and respond to. Tyndale publishes the Holy Bible, New Living Translation (NLT) and offers nonfiction books that equip readers with Christ-centered insight, counsel, and life-improving stories. In addition, Tyndale publishes fiction from fresh new voices and celebrated authors alike, capturing the imagination of millions of readers. With a deep understanding of the importance of nurturing future generations, Tyndale also publishes children's products that make God's Word and wisdom come alive. Tyndale's independent status allows it to follow its founding model, giving a majority of annual revenue—more than $110 million throughout its history—to charitable missions. With every book purchased, Tyndale readers help meet the physical and spiritual needs of people around the world.