'I'll Push You' documentary to debut November 2 in theaters nationwide
A special one-night event in select theaters in partnerships with the Muscular Dystrophy Association (MDA)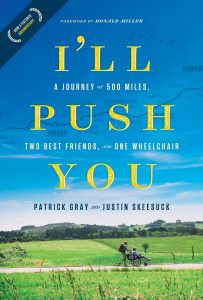 Carol Stream, Ill. – On Good Friday, viewers of NBC's "Today" were riveted by a remarkable segment (http://www.today.com/kindness/i-ll-push-you-man-pushes-wheelchair-bound-best-friend-t110422) narrated by correspondent Jenna Bush Hager that profiled the uncommon friendship between Patrick Gray and Justin Skeesuck (@illpushyou), the authors of I'll Push You: A Journey of 500 Miles, Two Best Friends, and One Wheelchair (ISBN 978-1-4964-2170-8, $15.99, SC, June 2017, Tyndale Momentum).
On Thursday, November 2, in partnership with the Muscular Dystrophy Association (MDA), a documentary about Gray and Skeesuck's unfathomable journey will debut in more than 500 theaters nationwide (via Fathom Events). The entire list of theaters is linked at: https://www.illpushyou.com/p/tickets; and a trailer for the documentary is here: https://www.illpushyou.com/.
I'll Push You tells the story of two friends who, born in the same hospital two days apart, grew up together, faced life shoulder to shoulder, and were best man in each other's weddings. But then the unexpected struck—Justin was diagnosed with a progressive neuromuscular disease that robbed him the use of his arms and legs. When Justin shared his dream of traveling the famous Camino de Santiago—a spiritual pilgrimage through the mountains and rough terrain of northern Spain—Patrick immediately volunteered to push Justin in his wheelchair. Their six-week, 500-mile trek, with its physical challenges, host of colorful characters, and deep inner battles, would prove to be the most difficult and important journey either man would take.
Earlier this year the I'll Push You documentary debuted at the prestigious Newport Beach Film Festival. Originally scheduled for one theater at the festival, it quickly sold out four theaters, and it received the "Audience Award for Documentary" at the conclusion of the festival.
Author Bios:
Born in the same small town just a few days apart, Justin Skeesuck and Patrick Gray have been blessed with a unique relationship. At fifteen years of age, a car accident triggered a dormant disease in Justin's body, resulting in a life lived in a wheelchair.
In 2014, these lifelong friends did the impossible—together they tackled a 500-mile pilgrimage through Spain known as the Camino de Santiago, or Way of St. James. While most people attempt this epic journey on foot, Justin traveled the entire distance in his wheelchair, pushed by Patrick (and other volunteers along the way). As Patrick physically pushed Justin over mountains, through deserts, and across fields, Justin, in turn,  pushed Patrick, mentally and emotionally, beyond fear and insecurity, into a whole new world of joy and freedom. Their journey is a brilliant metaphor for the lives they have been blessed to live. Just as neither could have accomplished the rigorous trek on his own, their successes in life are largely attributed to the way they have pushed each other and the way they have allowed others to push them. Now they work together, sharing unapologetic words of hope and faith through their writing and speaking as they share the message that we can achieve more when we work together.
Both men love music, road trips, and driving their wives crazy.
Justin lives in Eagle, Idaho, with his wife, Kirstin, and their three children: Jaden, Noah, and Lauren. Patrick lives in nearby Meridian, Idaho, with his wife Donna, and their three children: Cambria, Joshua, and Olivia.
Tyndale House Publishers (@tyndalehouse), founded in 1962, is one of the largest privately held Christian publishers of books, Bibles, and digital media in the world. Tyndale Momentum, Tyndale's nonfiction imprint, is the publisher of many New York Times bestsellers and is known for integrity in building lasting personal relationships with authors and agents. Tyndale extends the ministry of its authors by contributing most of its profits to the nonprofit Tyndale House Foundation, which makes grants to help meet the physical and spiritual needs of people around the world. Originally founded to publish The Living Bible, a contemporary paraphrase of the Bible that became a global publishing phenomenon, Tyndale now publishes the Holy Bible, New Living Translation (NLT), the translation of choice for millions of people.