ICON Media Group adds partner, expands services
Prominent Media Relations Firm Announces Move to Full-Service Marketing Agency; Former Non-Profit VP to Spearhead Digital Efforts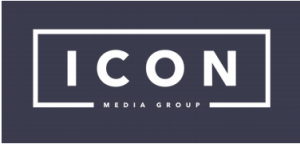 NASHVILLE, Tenn. (Aug. 6, 2018) – ICON Media Group announces it will now operate as a full-service marketing agency. Launched in 2013, ICON is well known in the faith-based entertainment and publishing industries for media relations, having led efforts around numerous box office hits and New York Times bestsellers. Jeff Roman, former Vice President of Marketing for Convoy of Hope, a Charity Navigator 4-star rated non-profit organization, joins the agency as partner, and will spearhead the firm's move into a full suite of creative services including branding, digital marketing, social media and non-profit support.
"I'm very excited to join the talented team at ICON Media Group," says Roman. "Their reputation in the marketplace is second to none; through the years they have become known for operating with excellence and for their commitment to generosity."
Roman's previous experience includes executive-level leadership in both corporate and non-profit sectors where he led business development, marketing services and fundraising campaigns in partnership with NFL Alumni, eBay, American Airlines and numerous Hollywood celebrities and professional athletes. In 2013, he launched the feedONE initiative for Convoy of Hope that continues to feed thousands of children every month in developing nations around the world. Roman joins existing partners Paige Collins, Shanon Stowe and Jennifer Willingham, as well as employees Kelsey Hulgan, Katie Bell, Tracy Pence and Christina Bostick.
"Many of our clients have expressed the need for additional services delivered with the level of personal attention that has become one of our hallmarks," says partner Jennifer Willingham. "The expansion of ICON provides a one-stop creative shop that integrates all marketing and media relations functions. Additionally, we look forward to utilizing Jeff's unique skill set to expand our non-profit client roster."
The announcement comes with a holistic visual rebranding for the agency, which can be viewed at www.iconmediagroup.com.
ICON's recent success includes handling media relations for three of the most successful faith-based films in history (I CAN ONLY IMAGINE, WAR ROOM and GOD'S NOT DEAD),New York Times bestselling authors Ainsley Earhardt, co-host of FOX & Friends, Lisa Bevere, Dr. Kevin Leman, Jentezen Franklin, Katie Davis Majors and Shauna Niequist, as well as Fiona the Hippo, Christine Caine, Museum of the Bible co-founder Jackie Green and Hobby Lobby Corporate Ambassador Lauren Green McAfee. Clients include AFFIRM Films, Provident Films, Fathom Events, TBN, PULSE, Universal Pictures, HarperCollins Christian Publishing, Hachette Book Group, Baker Publishing Group, Joel Osteen Ministries and Convoy of Hope.
Media Contacts:
Shanon Stowe, shanon@iconmediagroup.com
Paige Collins, paige@iconmediagroup.com