I Am Second releases new book of stories from individuals
who overcame obstacles and found true, lasting love
Mike Fisher, Carrie Underwood, Sean Lowe, Danny Gokey and More Share Personal Accounts of Discovering Meaning and Belonging in 'I Found Love'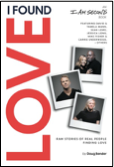 PLANO, Texas, Nov. 10, 2020 – Filled with powerful stories of men and women in the public eye who have broken the barriers of divorce, addiction, racism, abuse, miscarriage, shame and more, "I Found Love: True Stories of Discovering Love, Belonging and Friendship," will release Jan. 12 from global storytelling organization I Am Second. "I Found Love" is authored by Doug Bender, I Am Second's Chief Content Writer, and published by Nelson Books.
"If you're surrounded but alone, 'liked' but unloved, continually sending the world your message but feeling always unheard, then you need the stories in this book," writes Bender. "If busyness has taken the place of connection and if virtual friends have replaced real ones, then these stories of genuine love are for you."
"I Found Love" is a different kind of love story. The book tells the accounts of people who searched and searched for meaning and fulfillment and only found it when they put their trust in Christ.
"I Found Love" includes raw and compelling anecdotes from Seconds who have found life-changing love, belonging and friendship, including:
"Bachelor" contestant Sean Lowe;
Mike Fisher, former NHL Star, and Carrie Underwood, singer and songwriter;
Actors and artists David and Tamela Mann;
American Idol contestants and singers Danny Gokey and Jason Castro;
Michael Kent, former Neo-Nazi, and Tiffany Whitter, probation officer;
Paralympic swimmer Jessica Long; and
Marine and MMA fighter Chad Robichaux, to name a few.
"You are loved—even if you don't feel it. You are liked—even if you haven't seen a thumbs-up in weeks," writes Bender. "A community is here for you, a people ready to say, 'You are one of us.' 'You belong' is the message of this book. 'You are loved' is its anthem. In these pages, you'll discover broken hearts healed, broken homes rebuilt, and broken lives resurrected."
"I Found Love" is the fourth book from I Am Second and will release Jan. 21, 2021, from Nelson Books. For more info, visit http://www.ifoundlovebook.com.
About I Am Second
I Am Second is a non-profit launched in 2008 that ignites hope and inspires people to live for God and for others. Its website, iamsecond.com, features written and film-based stories of more than 100 athletes, actors, models, musicians, cultural influencers and everyday people who have stepped in front of the camera and declared, "I Am Second." For information, visit iamsecond.com.
About Doug Bender
Doug Bender joined e3 Partners in 2008 and currently serves as Chief Content Writer for I Am Second, developing resources and materials for leaders to help individuals understand what it means to "Live Second." Bender is co-author of "I Am Second: Real Stories. Changing Lives." He also authored "Live Second: A Daily Guide to Live a God-honoring Life" and "I Choose Peace: Raw Stories of Real People Finding Contentment and Happiness."
About Thomas Nelson
Thomas Nelson, part of HarperCollins Christian Publishing, Inc., is a world-leading provider of Christian content and has been providing readers with quality inspirational product for more than 200 years. The publishing group provides multiple formats of award-winning Bibles, books, gift books, cookbooks, curriculum and digital content, with distribution of its products in more than 100 countries. Thomas Nelson is headquartered in Nashville, TN. For additional information, please visit www.thomasnelson.com.