"Hope Now" by Dr. Albert L. Reyes releases in paperback by Iron Stream Media
Penned by the president and CEO of nonprofit Buckner International and published by Iron Stream Media, Hope Now tears down the walls separating evangelism and social ministry.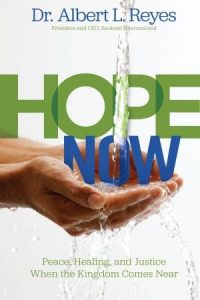 (October 1, 2019) —Iron Stream Media and Buckner International announce the paperback release of Hope Now: Peace, Healing, and Justice When the Kingdom Comes Near by Dr. Albert L. Reyes.
Dr. Reyes is president and CEO of Buckner International, a 140-year-old ministry dedicated to transforming the lives of orphans, vulnerable children, families and senior adults. In Hope Now, he explores evangelism versus social ministry and works to tear down any existing walls that separate the joint biblical calling to meet both the spiritual and practical needs of people.
"The inspiration for this book flowed out of my own journey as a follower of Jesus of Nazareth," said Dr. Reyes. "Somewhere along the line we built these walls between meeting the practical needs of people and meeting their spiritual needs. You had to choose between one or the other, a notion I reject. I believe these needs are two sides of the same coin, and in Hope Now I explain how both are not only doable but must be done."
Hope Now offers encouragement for holistic ministry showing how and why evangelism can and should be combined with social ministry and social justice efforts. The book offers inspiration for all interested in serving others, especially social workers and those who work with senior adults, orphans and at-risk children.
"You are bringing Christ's  kingdom near when you meet both the physical and spiritual needs of others," said Dr. Reyes.
Dr. Reyes's experiences from more than a decade with Buckner are apparent throughout the book, where he references some of the nonprofit's programs designed to protect children and build strong families. These programs include foster care and adoption, family transition programs, community-based family preservation programs and retirement services for senior adults. Buckner also provides humanitarian aid and crisis relief to poverty-stricken children and families.
Each chapter of Hope Now includes questions for consideration and discussion.
About Iron Stream Media:
Iron Stream Media derives its name from Proverbs 27:17, "As iron sharpens iron, so one person sharpens another." This sharpening describes the process of discipleship, one to another. With this in mind, Iron Stream Media provides a variety of solutions for churches, ministry leaders and nonprofits ranging from in-depth Bible study curriculum and Christian book publishing to custom publishing and consultative services. Through the popular Life Bible Study and Student Life Bible Study brands, Iron Stream Media provides web-based full-year and short-term Bible study teaching plans as well as printed devotionals, Bibles and discipleship curriculum. Learn more at IronStreamMedia.com.
About Dr. Albert L. Reyes:
Dr. Albert L. Reyes is the sixth president and CEO of Buckner International, a faith-based, global nonprofit organization founded in 1879 in Dallas, Texas. Buckner International focuses on helping vulnerable children, families and seniors. Dr. Reyes is a former pastor and delivers sermons and keynote speeches at conferences and special events. With two doctoral degrees, Dr. Reyes is a lifelong learner and leadership development proponent. He is the author of two books:  Jesus Agenda and his latest, Hope Now. Learn more at AlbertLReyes.com.
Information Contacts:
Christopher Ruth
Director of Media Relations
Buckner International
630-536-9139 (cell)
cruth@buckner.org
 
Meredith Dunn
Iron Stream Media
Meredith@IronStreamMedia.com