Hope amid cancer drives new children's book 'When I Hold You'
NASHVILLE, Tenn. — In 2017, Ashley Huffstutler, at 29 years old, received news she had terminal brain cancer. Having just given birth to her second child, all she wanted to do was hold her two girls for as long as she could. But Huffstutler sensed God nudging her, telling her there was more to do. She felt God saying, "In this more, others will see my glory."
This prompting led to the conception of the children's book "When I Hold You" from B&H Publishing, a division of Lifeway Christian Resources. For Huffstutler, writing this book was a long, arduous process as the growing brain tumor affected her reading and writing. But God held her hand through it all. At first, Huffstutler thought the book would simply be a great keepsake for her girls, but God showed her it was also for others to come to know Him more dearly and deeply.
The 24-page children's book describes the love of a mother to her child and how that reminds her of the love of God the Father. Each turn of the page also reveals a Bible verse, so readers can reflect on Scripture and God's love for them. Airin O'Callaghan beautifully illustrated mothers of varying skin tones and hair colors, ending with a depiction of Huffstutler and her two girls with their red hair.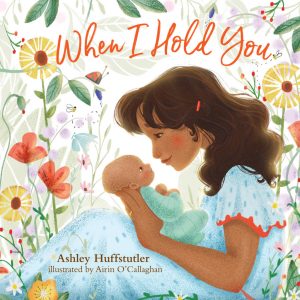 "I had never read a book comparing a mother's love to God's nurturing, tender care for us—but after I read this manuscript, I knew immediately this book had to exist in the world," said Anna Sargeant, acquisitions editor for B&H Publishing. "This reminder of God's tenderness is important in our day and age."
Ashley Huffstutler and her husband David update a blog about their journey entitled "Ever Singing for Joy." It documents their ups and downs through cancer, always pointing to Christ as their strength. David wrote early on in 2017 that Ashley's heart was always evangelistic. "Ashley's words to me were, 'When I can't proclaim the gospel and can't preach Jesus for myself, it will all fall to you. Take up that mantle and run with it. Boldly proclaim Jesus for me.'"
Writing and publishing "When I Hold You" is one way Huffstutler is doing that while still here on earth.
"'When I Hold You' took on a whole new meaning when I finally got to read it to my baby girl for whom my husband and I waited for several years," said Amanda Mae Steele, marketing specialist for the book. "When I finally got to hold my child and read the words God gave to Huffstutler, it was as if I was experiencing His overwhelming love for me as His own child, too, for the very first time."
Huffstutler's health is still declining even as she continues chemotherapy. The cancer has weakened her memory retention and her ability to do everyday activities. As a family, the Huffstutlers expect difficult days ahead and covet readers' prayers. Still, as the title of their personal blog suggests, the Huffstutlers remain committed to declaring their joy in the Lord through all seasons of life.
More information about "When I Hold You" can be found at Lifeway.com.