Hendrickson Publishers' Complete Jewish Study Bible
is a 2017 ECPA Christian Book Award® Finalist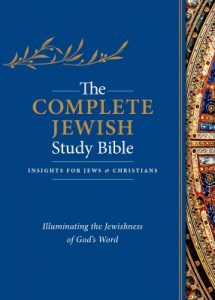 PEABODY, MA (March 31, 2017)—We are honored to announce that The Complete Jewish Study Bible, published in partnership with Messianic Jewish Publishers & Resources, is a 2017 ECPA Christian Book Award ® finalist.
The Christian Book Award® program recognizes the highest quality in Christian books and Bibles and is among the oldest and most prestigious award programs in the religious publishing industry.
The Complete Jewish Study Bible is a unique and helpful study Bible that reconnects readers with the Jewishness of God's Word. It is geared toward Christians who want to know more about the Bible's cultural roots and spiritual heritage. Pairing the newly updated text of the best-selling Complete Jewish Bible with comprehensive study material, detailed notes, and articles—written by a team of leading Christian and Jewish scholars—it helps readers understand and connect with the essence of their faith.
"We have always been interested in how having a better understanding of the Jewish Scriptures gives Christians a fuller understanding of our faith," said Rick Brown, publisher. "We are so honored that The Complete Jewish Study Bible has been named a finalist in the ECPA awards as it illuminates the scriptures in a way no other Bible on the market today can."
Study material includes over 100 articles—categorized into twelve themes—covering topics such as Jewish Customs, Messianic Prophecy, the Names of God, Shabbat, the Torah, and more. Over thirty additional topical articles—ranging from such subjects as the menorah and repentance, to Yeshua's "Sermon on the Mount" and the Noachide Laws—offer fresh insight and spiritual application. The Complete Jewish Study Bible also provides scripture readings for Sabbaths, Festivals, Feasts, and Fasts, and offers the original Hebrew names for all people, places, and concepts, as well as a pronunciation guide.
The last Hendrickson Publishers Bible that was nominated as an ECPA Christian Book Award ® finalist was The Everyday Matters Bible for Women.
Hendrickson Publishers has a strong history of producing outstanding academic, trade, reference books, and Bibles at a reasonable price. Our products include books on Christian living, biblical studies, and biblical reference works catered to the needs of pastors, thoughtful laypeople, and the academy. www.hendrickson.com