Hendrickson Publishers and the Center for the Study of New Testament Manuscripts to Publish Third-Century "New Testament Papyri Facsimiles"
PEABODY, MA—In a historic collaboration, Hendrickson Publishers—in partnership with the Center for the Study of New Testament Manuscripts—will publish a deluxe facsimile edition of New Testament papyrus codices written in the third century. The facsimiles and a separate transcription volume are scheduled to be released to the public in November 2020.
This collection—created by the groundbreaking digitization work of the Center for the Study of New Testament Manuscripts, under the direction of Dr. Daniel B. Wallace—updates the previously published edition, which was produced from 1933 to 1937.
This New Testament Papyri facsimile collection brings three of the oldest manuscripts of the Bible to a modern audience. The partially preserved papyrus codices P45, P46, and P47 are dated from the third century and contain passages from all four Gospels, the book of Acts, the Pauline Epistles, the book of Hebrews, and the book of Revelation, making them some of the most significant witnesses to early Christian Scripture that exist today. This collection bears heavily on our current understanding of the origins of the biblical text.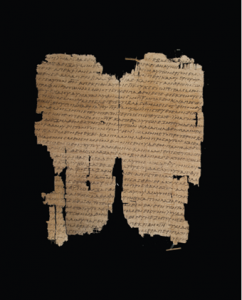 The culmination of the project is the production of a museum-quality print facsimile that allows the Scriptures to come alive like never before. It captures the ancient beauty of the text: its scars and handwritten scripts; its age and timeless significance.
Printed in duplicate against white and black backgrounds, the high-resolution images in this facsimile edition reproduce the fragmented papyri in stunning clarity at their actual size, offering scholars and students of New Testament manuscripts an unparalleled encounter with these crucial witnesses to the Bible's textual history.
Coming November 2020 / 9 x 12 inches / ISBN 978-1-61970-844-0 / Retail $399.00.
The Center for the Study of New Testament Manuscripts, founded by Dr. Daniel B. Wallace, utilizes emerging technologies to preserve and study Greek New Testament manuscripts. They have collaborated with more than forty institutions across four continents to produce thousands of images of New Testament manuscripts. Learn more at www.csntm.org.
Sample images from New Testament Papyri P45, P46, P47: Facsimiles
---
Hendrickson Academic (an imprint of Hendrickson Publishing Group) seeks to meet the needs of the religious studies academic community worldwide. Learn more at www.hendricksonpublishinggroup.com/hendrickson-academic.
MEDIA CONTACT: Meg Rusick, Marketing Director, mrusick@hendrickson.com