Harvest House titles named 2019
Christian Book Awards® winners
Eugene, Oregon—May 3, 2018—Harvest House Publishers is pleased to announce that Seeing Green by Tilly Dillehay and Bible Infographics for Kids by Harvest House are recipients of the 2019 Christian Book Awards® in the New Author and Young People's Literature categories.
Seeing Green is more than a book about envy—it's about changing the way we think of God's glory. In doing so, readers learn to rejoice with others, experience greater contentment, and discover how to truly love others.
"As a new author who feels blessed to have words in print in the first place, it means so much to me for ECPA to honor this project. Like every writer, I regard my first book almost as a first child," said Dillehay.
Dillehay, is the host of The Green Workshop, an event for women about envy. A graduate of Lipscomb University, she has been the editor of a weekly newspaper and a lifestyle magazine and is currently a contributor to The Gospel Coalition. Tilly's husband, Justin, is a pastor in the greater Nashville area where they are raising two daughters.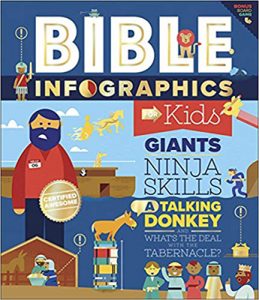 Bible Infographics for Kids is a collection of visually compelling and winsome graphics combined with interesting and often humorous content to make the Bible come alive for readers ages 8 to 12. The colorful pages depict key concepts, important people, and unusual facts from the Bible in an exciting a way, helping to instill a lifelong love of God and His Word in children.
"It is exciting to receive this award for one of our children's books," says Barb Sherrill, publisher and EVP, "particularly one developed by our own team. They are passionate about creating great products for kids, and this is validation of their hard work and commitment to excellence. It is rewarding to be able to provide fun and meaningful resources for kids."
The Christian Book Award® program has recognized the highest quality in Christian books since 1978. Based on excellence in content, literary quality, design, and impact, the Christian Book Award® program is the oldest and among the most prestigious awards in the religious publishing industry.
Harvest House, a Christian publishing company based in Eugene, Oregon, publishes more than 135 books per year and carries a strong backlist of more than 1,200 titles. More than 140 million Harvest House books have been sold worldwide through diverse distribution channels, and additional millions have sold in more than 75 different languages.  www.harvesthousepublishers.com
Contact: Christianne Debysingh, Harvest House Publishers, 888-468-4108, cdebysingh@harvesthousepublishers.com
---
Print quality images to accompany this press release are available in digital format. Available images are: cover art, author photo, Harvest House logo.