HarperCollins Christian Publishing Shifts Publishing
Programs to Prepare for Expanded Focus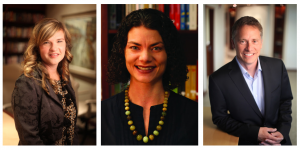 (Nashville, TN) April 11, 2017  –  HarperCollins Christian Publishing (HCCP) announced today three changes within its publishing programs to expand its reach with faith-based inspirational content.  The changes to its publishing leadership better align the business to aggressively pursue additional content sources.   
Daisy Blackwell Hutton is being promoted to vice president and publisher for the W Publishing Group, a nonfiction imprint of Thomas Nelson.  Hutton has been the company's fiction publisher for Thomas Nelson and Zondervan books for the past five years.  She joined the organization in 2008 as vice president of licensing for Thomas Nelson, after working for both literary agents and publishing houses in New York and Boston.   During her tenure as  publisher, she has presided over a number of New York Times and USA Today bestsellers, including novels by Colleen Coble, Terri Blackstock, Charles Martin, Rachel Hauck, Melanie Dickerson, and Max Lucado. Under her leadership, Hutton has diversified the fiction portfolio to include authors who traditionally wrote for a secular audience but were inspired by their own faith to cross over into the Christian market.  
Amanda Bostic will become the new publisher for HCCP's fiction program.  Bostic has served on the fiction's editorial team for the past 13 years.  She began her career as an associate editor for Thomas Nelson Fiction and most recently served as associate publisher for Thomas Nelson and Zondervan Fiction. Bostic is the editor of bestselling fiction authors Colleen Coble, Charles Martin, Terri Blackstock, and more.  She is well-known in the publishing industry for her experience and ability to mold new authors into bestselling storytellers.  
Matt Baugher, formerly senior vice president and publisher for the W Publishing Group, will take on the newly created role of senior vice president of author and partnership development. Baugher will concentrate primarily on discovering and developing new relationships for both Thomas Nelson and Zondervan. In Baugher's 10 years with Thomas Nelson, he has worked with first-time authors of bestselling titles including Same Kind of Different As Me by Ron Hall and Denver Moore, Heaven Is For Real by Todd Burpo, The Magnolia Story by Chip and Joanna Gaines, and This Life I Live by Rory Feek.    These books gained the attention of readers because of their inspirational and sometimes miraculous stories. 
Many of Baugher's projects have been signed by major movie studios.
  Baugher's passion and experience working with new authors to develop their life experiences into bestselling stories will drive this new initiative forward.  
"This is an exciting time of growth for our company," said Mark Schoenwald, president and CEO of HCCP.  "Daisy has demonstrated consistent effective leadership and expertise as a publisher and is prepared to take the next step in her career.  Amanda has learned under Daisy's guidance and is also ready to assume this lead role and continue its healthy growth.  Matt has a proven track record of success in leading the W Publishing Group and will now use his ability to find and develop meaningful and motivating stories and content full time.  These changes to our publishing programs allow us to take a proactive lead to drive growth and expansion of our business and partnership with our authors to reach new readers."  
Transitions for Hutton, Bostic, and Baugher will begin immediately under the guidance of senior vice president and HCCP group publisher, David Moberg.
About HarperCollins Christian Publishing:
The world's leading Christian publisher, HarperCollins Christian Publishing Inc., comprises both Thomas Nelson and Zondervan publishing groups in addition to Olive Tree Bible Software.  The Company produces bestselling Bibles, inspirational books, academic resources, curriculum, audio and digital content for the Christian market space.  Also home to BibleGateway.com, the world's largest Christian website, and FaithGateway.com, an online community dedicated to helping people grow in their faith. HarperCollins Christian Publishing is headquartered in Nashville, TN with additional offices in the U.S., Mexico and Brazil.  For more information visit
www.HarperCollinsChristian.com