HarperCollins Christian Publishing launches Elm Hill imprint
New self-publishing initiative provides authors with exclusive distribution opportunities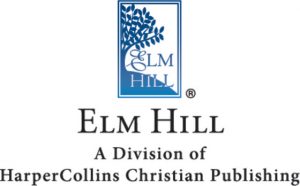 (Nashville, TN) August 15, 2017—HarperCollins Christian Publishing (HCCP) announced today the launch of Elm Hill, a new self-publishing imprint in collaboration with Accurance. Elm Hill's self-publishing model distinguishes itself in the industry by offering sales, marketing, promotion, and distribution assistance through HCCP, helping fulfill the organization's objective to develop innovative incremental growth opportunities.
Elm Hill offers six tiers of packaged publishing services, each providing varying levels of resources and support. All tiers include a combination of industry-leading services: the editorial, marketing, and production resources of Accurance, the opportunity for books to be featured and distributed through HCCP's many sales channels, and the technology platform powered by FastPencil.
"We are thrilled to have the opportunity to fill this unique need for self-publishing authors," says Pete Nikolai, publisher of Elm Hill and director of publishing services for HCCP. "The partnership between HCCP and Accurance will offer a one-of-a-kind experience and publishing path for self-published authors. Elm Hill authors will gain access to best-practice services, many never available before to self-publishing authors, to help polish their manuscripts, distribute their books to readers, and advance their publishing careers. We are excited to offer a new space to help promote fresh voices in publishing, which is an exciting growth opportunity for our business as well."
"We're ecstatic to be launching Elm Hill," says Jon Fitch, general manager of Elm Hill and president of Accurance. "After eighteen years in the self-publishing industry, we know this is a revolutionary opportunity for authors, and it's thrilling to get to offer this level of services for the first time anywhere."
Elm Hill will utilize FastPencil to help manage and streamline manuscript submissions, editing, production, and e-book conversion.
About HarperCollins Christian Publishing:
 The world's leading Christian publisher, HarperCollins Christian Publishing Inc., comprises both Thomas Nelson and Zondervan publishing groups in addition to Olive Tree Bible Software. The Company produces bestselling Bibles, inspirational books, academic resources, curriculum, audio and digital content for the Christian market space. Also home to BibleGateway.com, the world's largest Christian website, and FaithGateway.com, an online community dedicated to helping people grow in their faith. HarperCollins Christian Publishing is headquartered in Nashville, TN with additional offices in the U.S., Mexico and Brazil. For more information visit
www.HarperCollinsChristian.com
.
About Accurance:
 As the world's first turnkey provider for self-publisher firms eighteen years ago, Accurance is today an industry-leading provider of self-publishing services, specializing in pre- and post-press production, promotion and content management services for both authors and publishers. Accurance has built its foundation working alongside authors in today's million-title self-publishing industry by providing competitive pricing, resources and best-practices with the highest publishing, editorial, and marketing standards. For more information visit 
www.Accurance.com
.
About FastPencil:
  FastPencil is the leader for SaaS (software as a service) technology for writing and publishing. Leveraging the disruptive trends of self-publishing, social media, print-on-demand, and eBook distribution, FastPencil's technology solution delivers a unified online service that streamlines the book publishing process, offering more control and higher margins for authors and enterprise clients. For more information please visit 
www.FastPencil.com
.