Hachette Nashville releases new book by Joyce Meyer this week, "How to Age Without Getting Old"
Joyce Meyer guides readers in how to embrace the aging process with grace and positivity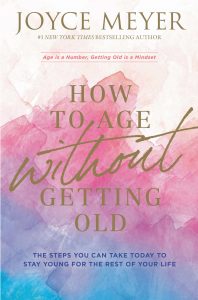 Be empowered and equip yourself with tools to live a full and fruitful life at any age with renowned Bible teacher Joyce Meyer.
Everything is beautiful in its time. Life is a journey through beautiful and varied seasons, with a dynamic cadence and full of continued discovery. Embrace each season of your life and learn to live into it fully with grace and help from Joyce Meyer, as she shows you:
How to truly cast even your lifelong cares upon the Lord
How to live dynamically, embracing and delighting in the journey
How to embrace God's grace for this season
How to live abundantly as your body and mind change
God's timing is always perfect, and there is a distinct and meaningful purpose for this season of your life.
Joyce says, "Only a fool thinks they can always do what they have always done." How to Age Without Getting Old equips us to become wise enough to embrace God's changing grace and the evolution of our calling to the next season of life.
HOW TO AGE WITHOUT GETTING OLD
The Steps You Can Take Today to Stay Young for the Rest of Your Life
by Joyce Meyer, March 30, 2021
Joyce Meyer is one of the world's leading practical Bible teachers. Her daily broadcast, Enjoying Everyday Life, airs on hundreds of television networks and radio stations worldwide. Joyce has written nearly 100 inspirational books. Her bestsellers include Power Thoughts; The Confident Woman; Look Great, Feel Great; Starting Your Day Right; Ending Your Day Right; Approval Addiction; How to Hear from God; Beauty for Ashes; and Battlefield of the Mind. Joyce travels extensively, holding conferences throughout the year, speaking to thousands around the world. She lives in St. Louis, MO.