Group releases first-of-its-kind Story Bible for adults
16 International Artists Collaborate for a Unique Bible Story Experience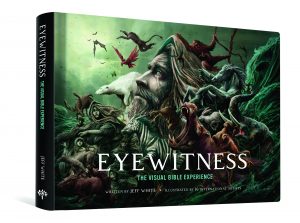 LOVELAND, CO — Illustrated Bibles and story Bibles have traditionally been targeted solely at children. But in an age of declining scriptural literacy, a new book aims to bring Bible stories to a more grown-up audience.
Eyewitness: The Visual Bible Experience is a 256-page, fully illustrated coffee table book that brings to life 39 Bible stories and beloved Scripture passages. Containing more than 120 original works of art by 16 artists from around the world, Eyewitness offers Biblical narratives written from the perspective of the people in the stories. Eyewitness releases on September 1.
"Research has shown that most people don't read the Bible much, if at all," said author Jeff White, who wrote an illustrated story Bible for children in 2017 called Friends With God Story Bible. "Many adults admit that the Bible feels intimidating. They aren't sure how to read the Bible, how to understand it, or even where to start with it. Eyewitness is an effort to change that."
The book presents most of the major stories in the Bible from Genesis to Revelation, with roughly half of the stories from the Old Testament and half from the New Testament. Eyewitness also features many stories by female characters, with about one-third representing women.
One distinctive aspect of the book is that each story has been rewritten from a first-person perspective. All the Bible characters—from Adam and Eve to Moses, Esther, and even Jesus himself—tell their own stories from their unique points of view.
"The entire book is really a giant exercise in empathy. The first-person approach makes the stories highly relatable because you discover that these Bible characters are far more like us—average, everyday folks—than we usually assume," White said. "The results are rather surprising."
Publisher Thom Schultz believes the art will draw a lot of people to the book.
"We recruited artists from 13 different countries on four continents to be a part of this project," said Schultz, the president and founder of Group. "We wanted to present the Bible with images that readers have never seen before—something original, compelling, and even a bit unexpected. We're thrilled with what these very creative and culturally diverse artists have dreamed up."
The artists—all professional, full-time illustrators—come from all over the globe, including Greece, Indonesia, Spain, Colombia, Poland, Brazil, Canada, Italy, Argentina, Turkey, Russia, and the U.K.
The publisher enlisted the help of veteran Bible curriculum editors and Bible scholars to ensure that every story and passage interpretation remained true to Scripture. What one reads in Eyewitness is the same thing one would read in the Bible itself, except that it's retold with an engaging, conversational quality.
Group Publishing has produced a wide variety of Bible- and Jesus-based resources for more than 45 years, including the world's most popular vacation Bible school programs and the bestselling Jesus-Centered Bible. Eyewitness is published under Group's Lifetree imprint.
For more information, please contact Karen Hennings at 970-292-4131, or visit www.group.com and www.experienceeyewitness.com.
CONTACT: Karen Hennings, 970-292-4131, khennings@group.com