Gretchen Saffles, Founder of Well-Watered Women Online Community, to Release Debut Trade Book on April 6, 2021, as Part of Multi-Book Deal with Tyndale Momentum
The Well-Watered Woman
Rooted in Truth, Growing in Grace, Flourishing in Faith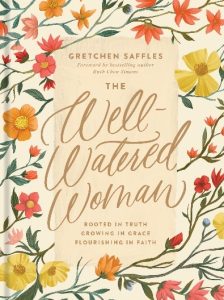 CAROL STREAM, Ill. (August 26, 2020)—Tyndale House Publishers (@TyndaleHouse) announces that Gretchen Saffles, author and founder of the online community Well-Watered Women, has written The Well-Watered Woman, leading readers to discover the bottomless, refreshing well of God's Word so they can experience a fullness and peace beyond their circumstances. The Well-Watered Woman and the companion devotional journal, The Well-Watered Life, are scheduled for release from Tyndale Momentum on April 6, 2021, and mark the first two products in a major multi-book deal.
Gretchen Saffles knows what it's like to feel overwhelmed and unable to flourish. In The Well-Watered Woman, she leads women to the Well of fullness, the Word of freedom, and the Way of fruitfulness. She teaches that God's Word will satisfy for all eternity.
Using Scripture and her own personal story of surrender, Gretchen offers spiritually hungry women tangible tools not only to know Jesus more but to live a life that thoroughly enjoys him, seeks him, and follows him into freedom.
Known best for her visually stunning quiet time journals and Bible studies, Saffles will also release a companion devotional journal, The Well-Watered Life. This beautifully designed journal, filled with writing prompts, Scripture teaching, and biblical exercises, encourages readers to chronicle their journey of faithfully finding and following Jesus. Saffles helps readers discover how to satisfy the deep craving in their souls as they learn practical ways to implement spiritual disciplines and rhythms in their daily routine as they pursue a "well-watered life" in Christ.
Senior acquisitions editor Kara Leonino said, "During my very first conversation with Gretchen Saffles, I knew I had met someone special. Gretchen has a unique ability to create space for women to come as they are, to know that they are not alone, and to discover who God calls them to be. I know firsthand that Gretchen is an incredibly kind person, a dedicated wife and mother, a creative and gifted communicator, and a compassionate leader; it is an honor for Tyndale and for me personally to release her first book into the world."
Additionally, executive publisher Jan Long Harris said, "What a privilege it is for the Tyndale Momentum team to partner with Gretchen Saffles, a 'well-watered woman' of unusual depth, purpose, and biblical insight, on her first book. Many, many readers are going to find their lives and souls enriched as they journey with Gretchen to the only Well that truly satisfies."
Gretchen Saffles (@gretchensaffles @wellwateredwomen) is passionate about encouraging and equipping women to drink deeply from the well of God's Word and to find their identity and purpose in Christ. She is the founder of Well-Watered Women, an online ministry that reaches women worldwide with the hope of the gospel. She has written several Bible studies, including Redefined: Defining Identity through the Mirror of God's Word and Esther: The Fingerprints of God. She is also the creator of the Give Me Jesus quiet-time journal for women, a tool to help women study Scripture daily. On any given day, you can find her with a cup of coffee in hand, her boys by her side, a message stirring in her soul, and a God-sized dream on her heart. Gretchen lives in Atlanta, Georgia, with her husband, Greg, and their two sons, Nolan and Haddon.  Gretchen is represented by William K. Jensen Literary Agency (www.wkjagency.com).
For more information, an advance reader copy, or to book an interview with Gretchen Saffles, contact Amanda Woods, amandawoods@tyndale.com, 630-784-5125.
Since its founding in 1962, Tyndale House Publishers has been a voice to trust for generations of readers. Today, Tyndale is one of the largest independent Christian publishers in the world. Tyndale's mission is to make the Bible accessible to as many people as possible in language that they can relate and respond to. Tyndale publishes the Holy Bible, New Living Translation (NLT) and offers nonfiction books that equip readers with Christ-centered insight, counsel, and life-improving stories. In addition, Tyndale publishes fiction from fresh new voices and celebrated authors alike, capturing the imagination of millions of readers. With a deep understanding of the importance of nurturing future generations, Tyndale also publishes children's products that make God's Word and wisdom come alive. Tyndale's independent status allows it to follow its founding model, giving a majority of annual revenue—more than $100 million throughout its history—to charitable missions. With every book purchased, Tyndale readers help meet the physical and spiritual needs of people around the world.