Goodwill Audio (Goodwill Rights Management Corporation) announces the release of its first audiobook: the Spurgeon classic "All of Grace"
Its creative approach presents this core library essential in a fresh and exciting way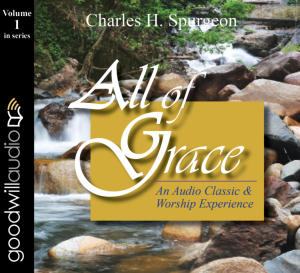 Cary, NC: Goodwill Rights Management Corporation (GRMC), a leading Christian publishing and rights services agency, today announced the release of its first audiobook, All of Grace: an innovative production that coalesces the spoken word with music for a multidimensional listening and worship experience.  Additionally, it announces the launch of Goodwill Audio, an arm of GRMC, which is dedicated to producing titles to help listeners find the freedom, grace and joy that is ours in Christ and expressed in the gospel.
This milestone is a significant move for GRMC as it responds to the increase in audiobook listeners.  According to GRMC founder and CEO Carl Dobrowolski, "We have been following this trend for quite some time and believe now more than ever that there is a tremendous demand for audiobooks for which Goodwill Audio will position itself accordingly. Look for new titles to be released late 2020."
All of Grace proves to give understanding to the magnificence of God and the freeing sense of what it means to be loved by Him unconditionally.
This news release comes in the wake of many exciting new initiatives and accomplishments of GRMC in recent months, including:
Spurgeon AudioBooks, a website of all things Spurgeon spurgeonaudiobooks.com
Ask Spurgeon podcast, an imaginary interview with the great preacher himself, produced in cooperation with Dave Holdt (the narrator of All of Grace) which addresses pressing questions for those who desire to learn more about God and the gospel. Available on Apple Podcasts/iTunes, Spotify, Deezer, Google Podcasts, Stitcher, Overcast, Pocket Cast, Castro, and Castbox.
To learn more about All of Grace, trends in the audio market and Goodwill Audio, read the article, All of Grace: GRMC's Pursuit of The Gospel In Audiobook at www.spurgeonaudiobooks.com/news.
About Goodwill Rights Management Corporation: For almost two decades, the organization has been advancing the Gospel by promoting the mission, messaging, and growing platforms of its publishing and ministry clients worldwide, and now an audiobook publisher in its own right under Goodwill Audio.
Contact: Carl Dobrowolski, Goodwill Rights Management Corporation,
347-247-2106  Carl@goodwillrights.com