Good Morning America's Eva Pilgrim and her Frenchie, Walter introduce kids to a new adventure in kindness
New children's book, "Walter Does His Best: A Frenchie Adventure in Kindness and Muddy Paws" debuts Sept. 7, 2021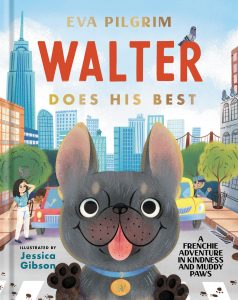 NASHVILLE, Tenn. (Aug. 18, 2021) – The effort to be kind and books on kindness continue to be very relevant in the parent-child spaces. Soon to be a mother herself, "Good Morning America's" Eva Pilgrim hopes her French Bulldog Walter can teach little humans this invaluable trait in her first children's book, Walter Does His Best: A Frenchie Adventure in Kindness and Muddy Paws, debuting Tues., Sept. 7.
Walter Does His Best is a hilarious, dog adventure story, that encourages kids to remember that being kind does not require perfection but rather one's best effort and intention. Young readers will see that Walter's heart is full of kindness as they join him on a mission of kindness throughout New York City. From Central Park to Broadway to Times Square, Walter tries his best to help his neighbors along the way, but his efforts don't go as planned. Whether on the subway, at the Rockefeller Center gardens, or Coney Island, Walter's attempts to put his best paw forward and be a good dog.
"Being kind seems like a small act, but when you add it all up it can really make a big impact on you and those around you, even if you don't immediately see it," said Pilgrim. "Kindness isn't just something you give other people, it changes you too."
Walter Does His Best encourages children to look for opportunities to be kind while also affirming that everyone makes mistakes. Pilgrim wants young people to know that kindness is a strength, and everyone has an opportunity to make the world brighter, one action at a time.
Born in Seoul, South Korea, Pilgrim grew up in Columbia, S.C. A New Yorker now, many know her from ABC's "Good Morning America: Weekend Edition," where she co-hosts with fellow correspondents, Rob Marciano, Dan Harris and Adrienne Bankert.
From a young age, Pilgrim's mother taught her that being kind was the best thing she could be and offer to others. Pilgrim still lives by that philosophy, so much so that she and her colleagues at "Good Morning America" developed a #nicegirls movement which she believes makes the newsroom a happier place.
"Having a dog as happy and loving as Walter inspires me to continue to bring kindness into this world," said Pilgrim. "Walter definitely has a big heart and always means well, but it would be an understatement to say he creates a lot of messes. You can't help but laugh with him and appreciate his efforts."
According to the American Kennel Association, the French bulldog – aka the Frenchie – is the 2nd most popular breed in the USA. Playful, smart, adaptable and a chart-busting "lovey-dovey" level on the affectionate with family and openness to humans scale, making Walter completely irresistible.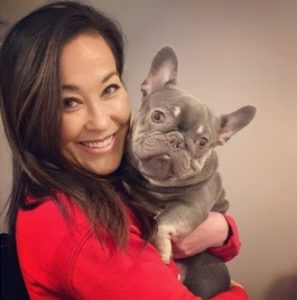 Walter Does His Best: A Frenchie Adventure in Kindness and Muddy Paws (ISBN: 9781400226771) will be released on September 7, 2021 everywhere books are sold.
About the Eva Pilgrim
Born in Seoul, South Korea, Eva grew up in Columbia, South Carolina and now calls New York City home. Eva is an ABC correspondent and co-host of "Good Morning America: Weekend Edition." Connect with Eva and Walter on Instagram at @evapilgrim and @walterunleashed.
About Tommy Nelson
Tommy Nelson® is the children's division of Thomas Nelson. As a leading provider of Christian content, Tommy Nelson publishes a wide variety of high-quality, enjoyable products that are consistent with the teachings found in the Bible. Tommy Nelson's award-winning products are designed to expand children's imaginations and nurture their faith while inspiring them to develop a personal relationship with Jesus. For more information, visit www.tommynelson.com.
Media contact:  Natividad Lewis, Publicist, 931.698.9620, natividad.lewis@harpercollins.com