GIVE THEM GRACE SURPASSES
100,000 IN PRINT WITH CROSSWAY
Lauren Harvey • lharvey@crossway.org 630-682-4300, ext. 6031 • crossway.org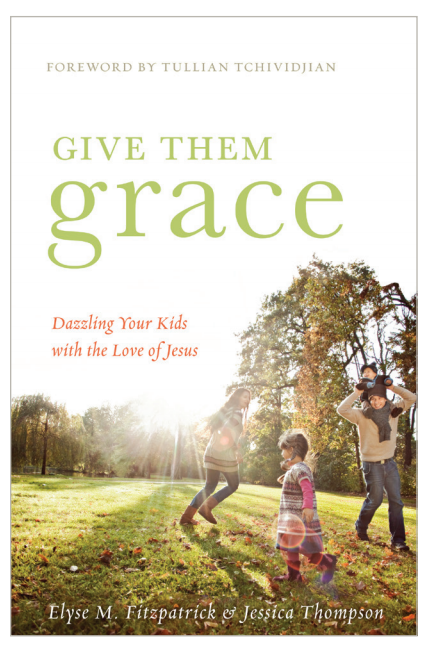 Crossway is pleased to announce that Elyse M. Fitzpatrick and Jessica Thompson's book  Give Them Grace: Dazzling Your Kids with the Love of Jesus (Crossway, September 2011) has surpassed 100,000 units in print sales.
In their desire to raise godly children, Christian parents can drift toward rule-centered discipline. Give Them Grace offers a far more effective method of parenting—a grace-motivated approach rooted in the good news about Jesus Christ. Fitzpatrick and Thompson speak to parents on how to raise their children with grace and the gospel, addressing topics such as the law, God's forgiveness and love, and true heart obedience.
Fitzpatrick and Thompson write, "This book will provide you with something more than a three-step formula for successful parenting. That's because even though it might seem counterintuitive, none of us need more law. In this case, law might masquerade as 'easy steps,' 'hints for success,' or even 'secret formulas,' but make no mistake: at heart it is law. Mormons, Muslims, and moralistic atheists all share the belief that law can perfect us, but Christians don't. Christians know that the law can't save us; what we need is a Savior."
"So many Christian parents fall into the trap of asking the law to do in the hearts of their children what only grace can accomplish," writes Paul Tripp, president of Paul Tripp Ministries and author of Parenting. "Armed with threats, manipulation, and guilt, they attempt to create change that only the cross of Jesus Christ makes possible. It is so encouraging to read a parenting book that points parents to the grace of the cross and shows them how to be instruments of that grace in the lives of their children."
Fitzpatrick and Thompson are a mother/daughter team who have sixty-five combined years of experience in parenting. Fitzpatrick has written over twenty books on biblical counseling, family, and the Christian life.
Give Them Grace: Dazzling Your Kids with the Love of Jesus
By Elyse M. Fitzpatrick and Jessica Thompson
Available from Crossway
Religion / Christian Life / Parenting
978-1-4335-2009-9 5.5" x 8.5" • Paperback $14.99 • 216 pp.
ABOUT THE AUTHORS
Elyse M. Fitzpatrick is the author of more than twenty books on biblical counseling, family, and the Christian life, including Because He Loves Me and  Found in Him. She has been married for over forty years, is the mother of three children, and the grandmother of six grandchildren. Jessica Thompson has three teenage children and is author of four books, including Exploring Grace Together and Everyday Grace.
Founded in 1938, Crossway is a not-for-profit global Christian publishing ministry that publishes gospel-centered, Bible-centered content, to honor our Savior and serve his Church. Crossway seeks to help people understand the all-encompassing implications of the gospel and the truth of God's Word—for all of life, for all eternity, and for the glory of God alone. Crossway is the global publisher of the ESV® (English Standard Version®) Bible, more than 1,000 Christian books, and an extensive list of gospel literature. For additional information visit crossway.org.
###