Gilead author Morgan L. Busse wins
ACFW Carol Award
Busse's "Awakened" Also Announced as Finalist for The Christy Award™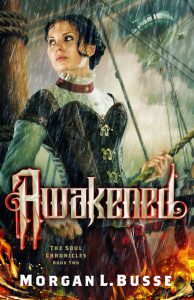 NASHVILLE (Sept. 24, 2018)—Gilead Publishing is pleased to announce that Awakened, the second title in Morgan L. Busse's The Soul Chronicles series, has won a 2018 Carol Award for excellence in speculative fiction. The Carol Awards, hosted by ACFW, recognize the best Christian fiction published by traditional publishing houses in the previous calendar year. The award was presented at the American Christian Fiction Writers' annual conference, held this year at the Opryland Resort in Nashville.
"We are thrilled with Morgan Busse's award," said Steve Laube, publisher for Enclave, the speculative imprint of Gilead Publishing. "She is a gifted author and this award is well deserved."
Awakened was edited by Reagen Reed, who also edited Tainted, the first book in Busse's The Soul Chronicles. The series is a loose retelling of Frankenstein set in a Victorian-era steampunk world.
"I feel very blessed and couldn't stop smiling all night!" Busse said.
Awakened is also a finalist for the Evangelical Christian Publishers Association's The Christy Award™, the industry's premiere award program for recognizing excellence in Christian fiction. The ECPA will announce the winners at The Christy Award Gala on Nov. 7 in Nashville.
About Gilead Publishing
Gilead Publishing is a new company started in 2016 whose purpose is to publish great fiction, which inspires and encourages readers through its imprints: Gilead (core Christian fiction categories), Enclave (sci-fi, fantasy, supernatural), and Evergreen Farm (titles from Catherine and Peter Marshall, including Christy).
About ACFW
ACFW is a professional organization devoted to the craft of Christian Fiction. ACFW's mission is to empower Christian novelists by inspiring them to join with God in the creative process, training them in the craft, and educating them in the publishing industry. For more information about ACFW, contact acfwrelations@acfw.com or www.acfw.com.
CONTACT: Katelyn S. Bolds, Marketing and Author Services Coordinator, Gilead Publishing,
katelyn@gileadpublishing.com