"Fresh Wind, Fresh Fire" celebrates one
million copies sold
Bestselling author and pastor Jim Cymbala hits sales milestone and marks 20 years with updated & expanded edition available February 2018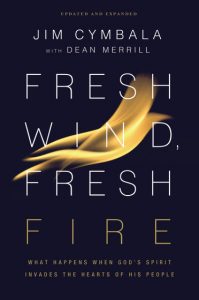 Grand Rapids, Mich. — With over one million copies sold,Fresh Wind, Fresh Fire has been inspiring and encouraging people to live at the center of God's purposes through the power of his Spirit for the past 20 years. Cymbala has now updated this well-loved book to show how God is still working in the Brooklyn Tabernacle two decades later.
The message of Fresh Wind, Fresh Fire remains the same, pointing the way to new spiritual vitality in the church and in readers' lives. Cymbala shows through his personal accounts what the Holy Spirit can do when believers get serious about prayer and the gospel. As this compelling book reveals, God moves in life-changing ways when Christians set aside agendas, take him at his word, and listen for his voice.
Cymbala updates readers on some of the classic stories told in the original edition, sharing what God has done in the lives of people woven into the story of the Brooklyn Tabernacle, including his own daughter. He shares how God continues to provide for the growing church, now with ten thousand members. The message of hope and transformation continues through this expanded edition.
Jim Cymbala has served as pastor of the Brooklyn Tabernacle for more than forty years. He is the author of many bestselling titles, including Fresh Faith, Fresh Power, and Spirit Rising, and curriculum, including When God's People Pray and When God's Spirit Moves. He lives in New York City with his wife, Carol, who directs the Grammy Award-winning Brooklyn Tabernacle Choir.
Zondervan is a world leading Bible publisher and provider of Christian communications.  Zondervan, part of HarperCollins Christian Publishing, Inc., delivers transformational Christian experiences through its bestselling Bibles, books, curriculum, academic resources and digital products. The Company's products are sold worldwide and translated into nearly 200 languages. Zondervan offices are located in Grand Rapids, Mich. For additional information, please visit www.zondervan.com. 
Contact:  Jennifer VerHage  616-698-3331   jennifer.verhage@harpercollins.com