Francis Chan's "Letters To The Church" wins prestigious UK Christian Life Book Of The Year Award
David C Cook Thrilled with World-Wide Response to Chan's Call for Church Renewal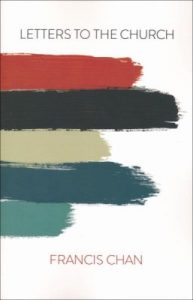 Colorado Springs, CO, September 30, 2019 – The best-selling book, Letters to the Church by Francis Chan was awarded the 2019 Christian Life Book of the Year by the UK CRT (Christian Resources Together) Annual Retreat, Conference and Exhibit in the Hayes Conference Centre in Swanwick, Derbyshire on September 16, 2019. This annual award is given to outstanding book in the UK in the Christian Life category.
Ian Matthews, as Director of UK Book Publishing for David C Cook, was there to accept the award. "This is a fantastic recognition of the transforming impact of Letters to the Church and Francis Chan," says Matthews. "We are honored to partner with him in challenging the church world-wide."
CRT stand for 'Christian Resources Together' and is the annual retreat, conference and exhibition for Christian publishers, retailers, distributors and authors.
Cedar Tree UK is the organizer of CRT Annual Retreat and the visionary behind its annual awards. CRT's goal is to provide support, fellowship, training and any appropriate business opportunities for those working with in the Christian Retailers and Suppliers trade in the UK. https://www.christianresourcestogether.co.uk/
Francis Chan is the author of Crazy Love, Forgotten God, Erasing Hell, Multiply, and You and Me Forever. He currently plants churches in the San Francisco area. Francis and his wife, Lisa, are raising their seven children in Northern California. www.CrazyLove.org
David C Cook is a nonprofit organization dedicated to publishing and distributing leadership and discipleship resources to help Christians all over the world grow in their faith and pass it on to the next generation. www.DavidCCook.org
Contact: Jana Muntsinger, MMPR, 832.247.9308, jana@mmpublicrelations.com