Four IVP titles named finalists for 2022
Christian Book Award® program
The Evangelical Christian Publishers Association (ECPA) has announced that four IVP titles are among the finalists for the 2022 Christian Book Award® program.
"As a community of people committed to excellence in publishing, we don't invest in the challenging and complex work that brings books, Bibles and other resources to people throughout the world merely to win awards," stated ECPA president Jeff Crosby. "Rather, we publish to fulfill our distinctive, gospel-advancing missions. And yet the annual Christian Book Awards provide a vital way of celebrating, recognizing, and expanding the awareness of significant works in a variety of categories. On behalf of ECPA, I extend my hearty congratulations to each of the authors and publishers who make up our list of finalists." 
The IVP finalists include the following:
Audio
God Speaks Through Wombs: Poems on God's Unexpected Coming written and narrated by Drew Jackson, produced by Christian Audio, a division of Recorded Books, published by IVP
Jackson is the founding pastor of Hope East Village in New York City. He also writes poetry at the intersection of justice, peace, and contemplation, with a passion to contribute toward a more just and whole world. In this dynamic collection of poems, Drew Jackson explores the first eight chapters of Luke's Gospel.
"With undeniable depth and brilliant creativity, Drew Jackson offers a powerful poetic tour through the Gospel of Luke," said Rich Villodas, lead pastor of New Life Fellowship and author of The Deeply Formed Life. "Drew joins poignant cultural analysis with biblical faithfulness, and does so in a way that kept me captivated throughout." 
---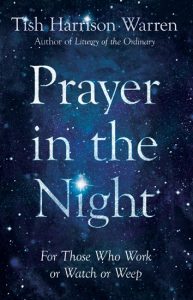 Christian Living
Prayer in the Night: For Those Who Work or Watch or Weep by Tish Harrison Warren
Framed around a nighttime prayer of Compline, Tish Harrison Warren explores themes of human vulnerability, suffering, and God's seeming absence. When she navigated a time of doubt and loss, the prayer was grounding for her. She writes that practices of prayer "gave words to my anxiety and grief and allowed me to reencounter the doctrines of the church not as tidy little antidotes for pain, but as a light in darkness, as good news."
"This book is the rare combination of beautiful prose and weighty theological reflection," said Esau McCaulley, author of Reading While Black. "It paints a picture of a faith that is still there on the other side of trite, easy answers that do not satisfy, a picture of hard-won belief. This is not just a book about prayer; at times the book becomes a prayer in its own right. It is, in the end, a reflection on what it means to be a Christian in the midst of losses large and small."
Warren was honored with the Christianity Today Book of the Year Award for Prayer in the Night in 2021, and also for Liturgy of the Ordinary: Sacred Practices in Everyday Life in 2018. She is a weekly contributing newsletter writer for the New York Times and writes a monthly column for Christianity Today. She has worked in ministry settings for over a decade as a campus minister with InterVarsity Graduate and Faculty Ministries and as the writer-in-residence at Church of the Ascension in Pittsburgh, Pennsylvania. Her articles and essays have appeared in the New York Times, Religion News Service, Christianity Today, Comment Magazine, The Point, and elsewhere.
---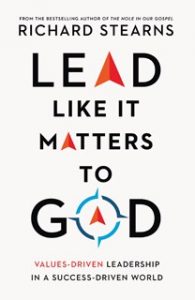 Ministry Resources
Lead Like It Matters to God: Values-Driven Leadership in a Success-Driven World by Richard Stearns
After stints as CEO of Parker Brothers and then Lenox, Richard Stearns accepted the invitation to leave his corporate career to become the president of World Vision US, where he became the longest serving president in their seventy-year history. During his tenure there he implemented corporate best practices, lowering overheads while tripling revenues. His leadership in calling the American church to respond to some of the greatest crises of our time, notably the HIV and AIDS pandemic and the global refugee crisis, challenged Christians to embrace a bold vision for compassion, mercy, and justice. In Lead Like It Matters to God, Stearns shares the leadership principles he has learned over the course of his remarkable career.
As a leader who has navigated both secular and sacred spaces, Stearns claims that the values Christian leaders embrace in their workplaces are actually more important than the results they achieve—that God is more concerned about a leader's character than a leader's success. 
Russell Moore, president of the Ethics & Religious Liberty Commission of the Southern Baptist Convention, said, "For years, I have hoped that Rich Stearns would write this very book. The sad predicament is not simply that the Christian world often outdoes the ambient culture in defining success as winning, displaying, and image maintenance. The end result is exhaustion and cynicism. In this enlivening book, Rich Stearns shows a different way: the way of integrity. Very few people have ever served in such wide-ranging positions of experience as Rich Stearns. Here he guides us through the lessons he has learned along the way. This book will equip and inspire you as you lead, in whatever place God has put you, by enabling you to listen to a battle-tested leader who has earned our trust." 
---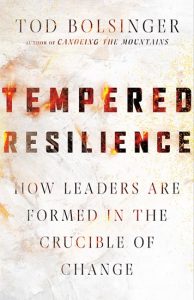 Ministry Resources
Tempered Resilience: How Leaders Are Formed in the Crucible of Change by Tod Bolsinger
"Tod Bolsinger is brave enough to admit that leadership is grueling," said Amy Sherman, author of Agents of Flourishing. "If you want to be a good leader, he teaches, prepare yourself for emotional pain, sacrifice, and the very hard work of becoming a more grounded, mature, and humble person. But accompanying this bracing challenge is a refreshingly practical guide to the kinds of disciplines the aspiring leader can exercise to become that kind of person. Those pursuing pastoral ministry will especially benefit from Bolsinger's insights and candid reflections on his own experiences. Tempered Resilience is neither abstract nor academic. It's a relentlessly honest book of wisdom from a devoted Christ follower that's meant to be applied in the real world."
Bolsinger, author of Canoeing the Mountains, is uniquely positioned to explore the qualities of adaptive leadership in contexts ranging from churches to nonprofit organizations. He deftly examines both the external challenges we face and the internal resistance that holds us back.
Bolsinger writes, "To temper describes the process of heating, holding, hammering, cooling, and reheating that adds stress to raw iron until it becomes a glistening knife blade or chisel tip." When reflection and relationships are combined into a life of deliberate practice, leaders become both stronger and more flexible. As a result, these resilient leaders are able to offer greater wisdom and skill to the organizations they serve.
Bolsinger is a speaker, executive coach, former pastor, and author who serves as associate professor of leadership formation and senior fellow for the De Pree Center for Leadership at Fuller Seminary. 
---
The Christian Book Award® program recognizes the highest quality in Christian books and Bibles and is among the oldest and most prestigious awards program in the religious publishing industry. Finalists and winners are selected in twelve categories. The winners will be revealed and finalists/winners celebrated at an awards celebration held in conjunction with the ECPA Leadership Summit in Philadelphia on May 3.
For a complete list of IVP award-winning titles visit ivpress.com.
Contact: Krista Clayton | 630.734.4013 | kclayton@ivpress.com