Four industry freelancers release new e-book on working
at home with Credo
Experienced Freelancers Offer Help for Working at Home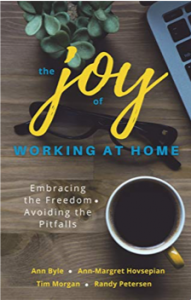 Grand Rapids, Mich.—Working at home is the new order of the day, but doing so it's easy. Now four experienced freelance writers, who have each worked at home for years, offer their best advice on navigating this new way to work. The Joy of Working at Home: Embracing the Freedom, Avoiding the Pitfalls ($2.99, Credo) offers a comprehensive look at how to work best at home. The book is available on Kindle.
"This guide offers readers advice on everything from setting up office space to tackling technology, from setting boundaries to keeping mentally healthy," said Tim Morgan, coauthor and director of the Journalism Certificate Program at Wheaton College (Illinois).
The three other coauthors are Ann-Margret Hovsepian, a Canadian freelance writer and author of Restore My Soul: A Coloring Book Devotional Journey; Ann Byle, author of Christian Publishing 101 and writer for Publishers Weekly who lives in West Michigan; and Randy Petersen, author of more than 50 books who lives in the Philadelphia area. Together the four authors have more than 75 years of experience working at home.
This practical manual comes at the right time as the pandemic forces many to work from home and as the benefits of working from home become evident. Readers will discover:
Best practices for a useful workspace
Tools for managing time and tasks
Advice on staying healthy, professional and productive
Tips for setting boundaries
Help for blending work and family
"We can help you navigate working at home because we've done so for years and know both the joys and the struggles," said Byle, who has been a freelance writer for 23 years.
"There is much to be gained by working at home. We want you to embrace the freedom in brings, while avoiding the pitfalls that can hinder your best work," said Petersen.
For more information, contact Ann Byle at annbyle@gmail.com or 616-389-4436.