Four ECPA members named to first Publishing
in Color advisory board
New Brunswick, NJ – February 19, 2018 – Writing for Your Life, a resource center for spiritual writers, is pleased to announce that four members of the Evangelical Christian Publishing Association (ECPA) have been named to the Advisory Board of Publishing in Color for African Americans. Those members are: Joyce Dinkins, Our Daily Bread Ministries VOICES Executive Editor, Yvonne Hawkins, Chief Content Office, Urban Ministries, Inc., Jeff Crosby, Publisher, InterVarsity Press, and Jennifer Leep, Executive Vice President, Trade Publishing, Baker Publishing Group.
Publishing in Color is a series of conferences for under-represented groups of spiritual authors such as African Americans, Asian Americans, Hispanic Americans, and Native Americans. The goals of these conferences are to:
Foster relationships between under-represented groups of prospective spiritual authors and representatives of spiritual book publishing companies and spiritual magazines

Provide networking and educational opportunities so that prospective authors can learn more about how to work with these publishers and magazines

Result in an increased number of books and articles published by under-represented groups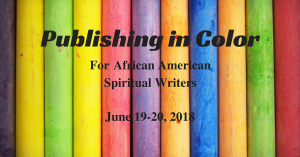 The first Publishing in Color conference will serve prospective African American authors and others of African descent. It will take place June 19-20, 2018 at the New Brunswick Theological Seminary in New Brunswick, New Jersey. Additional information about the conference can be found here: https://publishingincolor.com/conferences/
"I look forward to serving new authors at these conferences designed to expand opportunities for African Americans and others in Christian publishing" said Joyce Dinkins, Our Daily Bread Ministries VOICES Executive Editor.
"As members of the Christian publishing industry," said Jeff Crosby, Publisher of InterVarsity Press, "it is important for us to provide more opportunities for under-represented groups to be heard. The Publishing in Color conference series is an excellent vehicle to help make that happen."
The first Publishing in Color conference will include accomplished authors from the African American Christian community, including Patricia Raybon, Sophfronia Scott, Rev. Frank A. Thomas, and Rev. Jacqui Lewis. In addition to these keynote speakers, the event will feature publishing house representatives speaking about various aspects of "how to get published" and will include ample time for networking and relationship building.
Publishing in Color has established a scholarship fund that will pay for selected individuals to attend a future Publishing in Color conference at no charge. The fund is currently accepting donations, and profits from the Publishing in Color conferences will be donated to this fund.
You can learn more about the Publishing in Color conference series at: https://publishingincolor.com/
About Writing for Your Life
Writing for Your Life is committed to offering a comprehensive set of useful resources and services to support spiritual writers. We offer in-person writing conferences and online webinars featuring leading spiritual authors and publishing industry experts. Authors discuss and teach about various aspects of spiritual writing. Industry experts offer advice on how to get published and how to market.  We also offer a variety of writer support services including book development, editing, book proposal review, marketing, and platform development. https://writingforyourlife.com/
About Publishing in Color
Publishing in Color is a series of conferences for under-represented groups of spiritual authors such as African Americans, Asian Americans, Hispanic Americans, and Native Americans. The goals of these conferences are to: foster relationships between under-represented groups of prospective spiritual authors and representatives of spiritual book publishing companies and spiritual magazines; provide networking and educational opportunities so that prospective authors can learn more about how to work with these publishers and magazines; and result in an increased number of books and articles published by under-represented groups. https://publishingincolor.com/
For additional information contact Brian Allain at brian@writingforyourlife.com