Former NFL head coach, current NASCAR team owner Joe Gibbs to release "Game Plan for Loss: An Average Joe's Guide to Dealing with Grief"
New book shares insights gained from Gibbs's journey through grief after losing his son J. D. to a degenerative brain disease in 2019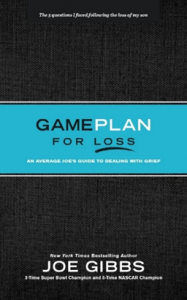 Carol Stream, Ill. (February 16, 2022) — On April 5, Tyndale House Publishers (@tyndalehouse) will release Game Plan for Loss: An Average Joe's Guide to Dealing with Grief, written by former NFL coach and current NASCAR team owner Joe Gibbs (Tyndale Momentum, hardcover ISBN: 978-1-4964-5795-0, $17.99). In his new book, Gibbs offers biblical principles as a guide for those dealing with the illness or loss of a loved one. Game Plan for Loss serves as a companion to Gibbs's bestselling book Game Plan for Life which has sold over 250,000 copies since its release in 2011.
In 2019, Gibbs's son J. D. lost his battle with a degenerative brain disease at the age of 49. Throughout J. D.'s illness, Gibbs wrestled with questions like why does God allow suffering? and are we living a life of chance? In Game Plan for Loss, Gibbs presents thoughtful answers to these difficult questions, sharing insights from the Bible and from his personal journey with grief, encouraging readers that God always has a plan and purpose for our lives, even in the midst of suffering and loss.
Joe Gibbs is the 3-time Super Bowl–winning coach of the Washington Redskins, the 5-time championship owner of the Joe Gibbs Racing NASCAR team, and the only person ever to be inducted into both the NFL and NASCAR Hall of Fame. Joe is also the founder of Game Plan for Life, a ministry which focuses on winning souls for Christ and teaching others how to live God-centered lives. Joe and his wife, Pat, have two sons and eight grandchildren.
For more information or for media inquiries, please contact Mariah Franklin at mariahfranklin@tyndale.com.
Game Plan for Loss by Joe Gibbs
Tyndale Momentum
hardcover ISBN: 978-1-4964-5795-0
$17.99 | 160 pages | April 2022
Tyndale.com
Since its founding in 1962, Tyndale House Publishers has been a voice to trust for generations of readers. Today, Tyndale is one of the largest independent Christian publishers in the world. Tyndale's mission is to make the Bible accessible to as many people as possible in language that they can relate and respond to. Tyndale publishes the Holy Bible, New Living Translation (NLT) and offers nonfiction books that equip readers with Christ-centered insight, counsel, and life-improving stories. In addition, Tyndale publishes fiction from fresh new voices and celebrated authors alike, capturing the imagination of millions of readers. With a deep understanding of the importance of nurturing future generations, Tyndale also publishes children's products that make God's Word and wisdom come alive. Tyndale's independent status allows it to follow its founding model, giving a majority of annual revenue—more than $110 million throughout its history—to charitable missions. With every book purchased, Tyndale readers help meet the physical and spiritual needs of people around the world.