FORMER KGB SPY JACK BARSKY TO RELEASE MEMOIR
WITH TYNDALE MOMENTUM IN MARCH 2017
Barsky's story first aired on CBS's 60 Minutes in 2015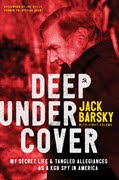 CAROL STREAM, Ill. (November 15, 2016)—On October 8, 1978, a Canadian national by the name of William Dyson stepped off a plane at O'Hare International Airport in Chicago and proceeded toward Customs and Immigration. Two days later, William Dyson ceased to exist. The Dyson identity was a KGB forgery, used to get one of their own—a young, ambitious East German agent—into the United States. The plan succeeded, and the spy adopted his new identity: Jack Barsky.
On March 21, 2017, Barsky, along with cowriter Cindy Coloma, will release a memoir about his remarkable story titled Deep Undercover: My Secret Life and Tangled Allegiances as a KGB Spy in America (ISBN-13: 978-1496416827, Tyndale Momentum (www.tyndale.com, Hardcover, US $24.99). Portions of Barsky's remarkable story were first detailed in the US on CBS's 60 Minutes in 2015, but the full story of his fascinating personal journey will not be revealed until the release of his memoir next spring.
"Deep Undercover is both a compelling spy story and a surprising love story," said Janis Long Harris, Executive Publisher, Tyndale Momentum. "It lifts the veil on the secret life of a Cold War–era KGB agent living undercover in America and shows us the price he paid in the process of being transformed from one kind of true believer to another."
After illegally entering the United States, Barsky worked undercover for the next decade, carrying out secret operations during the Cold War years . . . until a stunning change in his loyalties challenged everything he thought he believed.
Deep Undercover reveals the secret lives of this man without a country and the story no one ever expected him to tell.
Jack Barsky was recruited by the KGB and spent ten years as an undercover agent in the United States. He severed his relationship with the KGB in 1988 and pursued a corporate career in information technology. He was captured by the FBI in 1997. In 2015, 60 Minutes ran a story on Barsky's life and undercover work. Today, Barsky is a proud American citizen. He lives in Georgia with his wife, Shawna, and their daughter, Trinity.

Tyndale House Publishers, founded in 1962, is one of the largest privately held Christian publishers of books, Bibles, and digital media in the world. Tyndale Momentum, Tyndale's nonfiction imprint, is the publisher of many New York Times bestsellers and is known for integrity in building lasting personal relationships with authors and agents. Tyndale extends the ministry of its authors by contributing most of its profits to the nonprofit Tyndale House Foundation, which makes grants to help meet the physical and spiritual needs of people around the world. Originally founded to publish The Living Bible, a contemporary paraphrase of the Bible that became a global publishing phenomenon, Tyndale now publishes the Holy Bible, New Living Translation (NLT), the translation of choice for millions of people.
###