Former cult member wants to help others hear
God's many voices in new book with Worthy
Debut Book from Liz Ditty Encourages Breaking Free from False Teaching  to Listen to the Savior's Words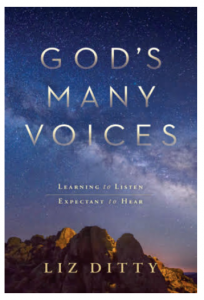 (NASHVILLE, Tenn.) July 2018 – Only God's voice in our lives can lead us toward the joy of being fully alive, accepted, and loved by Him. However, the challenge for many is to listen for His voice and recognize it amid the distractions of a busy world.
In her debut book, God's Many Voices: Learning to Listen, Expectant to Hear (Worthy Publishing, August 2018, $16.99, 9781683972525), Liz Ditty uses personal, relatable examples and biblical teaching to guide readers into hearing God's many voices in their lives.
Whether through scripture, prayer, community, interruptions, waiting, or silence, God is speaking to us – we just need to listen. Liz teaches readers how to listen and discern God's voices from among the many distractions of today. As Liz shows in her book, those who do not think that God speaks to them in their everyday life will be surprised to discover a God who is infinitely closer and more involved in our world than we give him credit for.
"When Jesus invited the disciples to follow Him," Liz writes, "He invited them to learn from Him, to eat with Him, to walk with Him, to lis­ten to His stories and to tell Him theirs. He's inviting us to the same conversational relationship."
In God's Many Voices, Liz encourages readers to not only hear God, but to truly listen to His voice and participate in His conversational relationship: "Learning to listen, then, is learning to notice all the things God is already saying to us that we may not be hearing. Listening can be just as valuable as hearing."
Liz Ditty is a speaker, writer, podcast host, and volunteer jail chaplain. Her upbringing in a fundamentalist cult where her father served as one of the elders and church planters taught her that women were to honor God through their submission and silence. At the age of 23 she left the church and her family. Over a decade of freedom later, Liz's first goal in ministry is to encourage others who have heard the wrong story about God to take their questions and hurts straight to him. Liz lives with her husband Mike and two children, Olivia and Flint, in San Jose, CA, where she teaches regularly at the multiple campuses of WestGate Church.
LIZ DITTY IS AVAILABLE FOR INTERVIEWS
Worthy Publishing Group is a privately held, independent voice in inspirational publishing, based in Nashville, Tennessee. Worthy includes five distinct imprints: Worthy Books publishes inspirational works addressing spiritual growth, biblical study, faith and culture, biography, fiction, and specialty Bibles; Museum of the Bible Books is a partnership between Worthy and the Museum, publishing books that reveal the history, narrative, and impact of the Bible; Ellie Claire produces beautifully crafted journals, gifts, and paper expressions; Worthy Inspired publishes felt-need, spiritual growth, inspirational, and devotional books; and WorthyKids/Ideals creates colorful, interactive children's books, including VeggieTales and Berenstain Bears, for ages 2 to 8.