Focus on the Family to release new parenting book, "Gist"
Gist: The Essence of Raising Life-Ready Kids is a fresh look at parenting that is effective, efficient, and enjoyable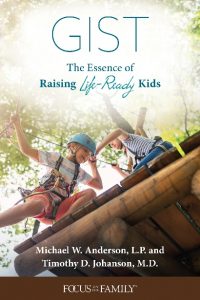 Carol Stream, Ill. (August 13, 2019) Focus on the Family, in alliance with Tyndale House Publishers, will release Gist on October 8, 2019. Michael W. Anderson, a licensed psychologist, and Timothy D. Johanson, a pediatrician and medical professor, combine their knowledge of childhood development and experience of parenting gone wrong in this no-nonsense guide to preparing kids for life. Previously self-published, Gisthas been updated to meet the specific needs of today's parents.
Anderson and Johanson are already trusted by countless parents in their roles as parenting editors of MOPS (Mothers of Preschoolers). Gist is unique in that it looks at many aspects of life that wouldn't typically be associated with parenting. Its focus on life readiness offers parents a new lens through which to see their parenting interactions and translates to an approach that eliminates many of the power struggles and ineffective patterns that can rob families of much of their joy. Gist goes beyond surviving the day-to-day to address the broader journey to adulthood.
Julie Lythcott-Haims, former dean of students at Stanford University, said, "Gist is a potent dose of advice from a pediatrician and a child psychologist, both of whom have witnessed the unfortunate results that come when parents try to protect, prevent, and control at every turn instead of preparing their kids for life. Combining the expertise of their respective professions with very practical tips, this is a how-to manual for any parent who wants to prepare their kids to thrive as adults."
Gist by Michael W. Anderson, L.P., and Timothy D. Johanson, M.D.
ISBN: 978-1-58997-586-6
Hardcover: $17.99
October 2019
FocusontheFamily.com
Tyndale.com
Since its founding in 1962, Tyndale House Publishers has been a voice to trust for generations of readers. Today, Tyndale is one of the largest independent Christian publishers in the world. Tyndale's mission is to make the Bible accessible to as many people as possible in language they can relate and respond to. Tyndale publishes the Holy Bible, New Living Translation (NLT) and offers nonfiction books that equip readers with Christ-centered insight, counsel, and life-improving stories. In addition, Tyndale publishes fiction from fresh new voices and celebrated authors alike, capturing the imaginations of millions of readers. With a deep understanding of the importance of nurturing future generations, Tyndale also publishes children's products that make God's Word and wisdom come alive. Tyndale's independent status allows it to follow its founding model, giving a majority of annual revenue—more than $100 million throughout its history—to charitable missions. With every book purchased, Tyndale readers help meet the physical and spiritual needs of people around the world.
Focus on the Family, which reaches about 38 million people in 120 countries, is a global faith-based ministry that helps families thrive. Tyndale House Publishers is pleased to partner with Focus on the Family to help provide trusted resources for strengthening believers in their faith and sharing the gospel; building resilient marriages that reflect God's design; equipping parents to raise their children with a thriving faith; advocating for the preborn, orphaned, and life at every stage; and engaging the culture through a biblical worldview. Visit Focus at FocusontheFamily.com or on Facebook and Twitter.