Focus on the Family to release books 4–6 in the Otter B Series
Character-building picture books for ages 3–5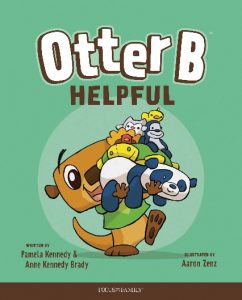 Carol Stream, Ill. (August 13, 2019)—Focus on the Family, in alliance with Tyndale House Publishers, will release Otter B Helpful, Otter B Taking Turns, and Otter B Trustworthy on October 8, 2019. Otter B teaches basic biblical character traits in a sweet, simple manner that small children can understand. The series is based on a character named Otter who gets involved in various situations in which he learns a lesson about godly character based on the outcome of his actions.
Otter B Helpful (#4)—Otter learns to be helpful when his grandparents come for a visit. Each book includes an appropriate Bible verse, and Otter B Helpful ends with this takeaway about the lesson:  "There's always lots of work to do in every family.  God says that helping out is best.  It's how you Otter Be!"
Otter B Taking Turns (#5)—Otter learns to take turns with his friends at the playground.
Otter B Trustworthy (#6)—When Otter doesn't put back his parents' things like he promised, they get wet in the rain. He learns what it means to be trustworthy.
About the Authors:
Pamela Kennedy is the author of more than 50 children's books. She has published hundreds of articles for a variety of organizations, including Ideals magazine. She has organized and taught Bible studies, religion classes, and marriage workshops. When she's not writing, she loves playing with her grandchildren.
Anne Kennedy Brady has authored or coauthored more than a dozen children's books, and her writing has appeared in Ideals magazine and Verily (verilymag.com). She's also the author of five plays that have been professionally produced and is a graduate of Seattle Pacific University.
Otter B Helpful / ISBN: 978-1-58997-047-2
Otter B Taking Turns / ISBN: 978-1-58997-397-8
Otter B Trustworthy / ISBN: 978-1-58997-452-4
Hardcover: $8.99 each
October 2019
FocusontheFamily.com
Tyndale.com
Tyndale House Publishers, founded in 1962, is one of the largest privately held Christian publishers of books, Bibles, and digital media in the world. Tyndale Momentum, Tyndale's nonfiction imprint, is the publisher of many New York Times bestsellers and is known for integrity in building lasting personal relationships with authors and agents. Tyndale extends the ministry of its authors by contributing most of its profits to the nonprofit Tyndale House Foundation, which makes grants to help meet the physical and spiritual needs of people around the world. Originally founded to publish The Living Bible, a contemporary paraphrase of the Bible that became a global publishing phenomenon, Tyndale now publishes the Holy Bible, New Living Translation (NLT), the translation of choice for millions of people.
Focus on the Family, which reaches about 38 million people in 120 countries, is a global faith-based ministry that helps families thrive. Tyndale House Publishers is pleased to partner with Focus on the Family to help provide trusted resources for strengthening believers in their faith and sharing the gospel; building resilient marriages that reflect God's design; equipping parents to raise their children with a thriving faith; advocating for the preborn, orphaned, and life at every stage; and engaging the culture through a biblical worldview. Visit Focus at FocusontheFamily.com or on Facebook and Twitter.