Focus on the Family and Tyndale House release #27 in The Imagination Station Series
Refugees on the Run: The Imagination Station Series #27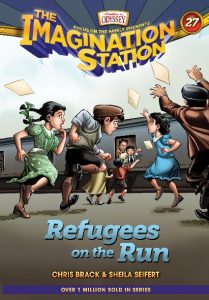 Carol Stream, Ill. (July 14, 2021)—Focus on the Family, in alliance with Tyndale House Publishers, released Refugees on the Run, #27 in the Imagination Station series, on June 8, 2021.
With over 1 million copies sold, the Imagination Station series continues with cousins Beth and Patrick in Lithuania during World War II. There they meet Leza, a young Jewish girl. With the Nazis on their way to Lithuania, Leza and her family need to flee the country or risk becoming prisoners, but the travel papers they need are nearly impossible to get. Their one hope is Chiune Sugihara, a Japanese diplomat who can issue the documents if he chooses to defy orders from Japan.
This installment remembers the courage of Chiune Sugihara, who, at great personal risk, helped thousands of Jews flee Europe during World War II by issuing necessary travel documents, allowing them to travel to safe destinations.
The Imagination Station series, a spin-off of the beloved Adventures in Odyssey audio dramas, teaches history and a biblical worldview through time-travel adventure stories. Every book includes a secret word puzzle; readers then head to TheImaginationStation.com to enter their answer and unlock a prize.
Refugees on the Run is coauthored by Chris Brack and Sheila Seifert. Brack is a published author of stories, crafts, and short nonfiction. Seifert is the director of parenting content for Focus on the Family magazine, a content strategist for its online parenting channel, and the book review editor for PluggedIn.com.
Refugees on the Run by Chris Brack and Sheila Seifert
ISBN: 978-1-58997-995-6| Hardcover: $9.99 | June 2021
FocusontheFamily.com | Tyndale.com
Since its founding in 1962, Tyndale House Publishers has been a voice to trust for generations of readers. Today, Tyndale is one of the largest independent Christian publishers in the world. Tyndale's mission is to make the Bible accessible to as many people as possible in language that they can relate and respond to. Tyndale publishes the Holy Bible, New Living Translation (NLT) and offers nonfiction books that equip readers with Christ-centered insight, counsel, and life-improving stories. In addition, Tyndale publishes fiction from fresh new voices and celebrated authors alike, capturing the imagination of millions of readers. With a deep understanding of the importance of nurturing future generations, Tyndale also publishes children's products that make God's Word and wisdom come alive. Tyndale's independent status allows it to follow its founding model, giving a majority of annual revenue—more than $110 million throughout its history—to charitable missions. With every book purchased, Tyndale readers help meet the physical and spiritual needs of people around the world.
Focus on the Family, which reaches about 38 million people in 120 countries, is a global faith-based ministry that helps families thrive. Tyndale House Publishers is pleased to partner with Focus on the Family to help provide trusted resources for strengthening believers in their faith and sharing the gospel; building resilient marriages that reflect God's design; equipping parents to raise their children with a thriving faith; advocating for the preborn, orphaned and life at every stage; and engaging the culture through a biblical worldview. Visit Focus at FocusontheFamily.com or on Facebook and Twitter.