First IVP Kids title receives Bronze Moonbeam Children's Book Award
WESTMONT, IL—Saint Nicholas the Giftgiver, the first title to release from IVP Kids on October 12, has won the 2021 Bronze Moonbeam Children's Book Award in the picture book category for ages four to eight.
Launched in 2007, the Moonbeam Awards are intended to bring increased recognition to exemplary children's books and their creators, and to celebrate children's books and lifelong reading. The purpose of the Moonbeam Awards is to highlight books that encourage children to be generous, compassionate, and to stand up for the rights of themselves and others.
This year's judges chose gold, silver, and bronze medalists in forty-five categories, covering the full range of styles and genres in English and Spanish. The awards attracted nearly 1,500 entries from around the world, and medals will go to authors, illustrators, and publishers from thirty-four US states, four Canadian provinces, and seven countries overseas. 
"We are so excited to launch IVP Kids this month, bringing IVP to a new generation of readers. And this recognition just adds to our excitement!" said IVP Kids editor, Elissa Schauer. "Saint Nicholas the Giftgiver is a wonderful story of outlandish generosity that is motivated by deep faith in the ultimate Giftgiver. Our hope is that this book become a classic, and that it is read and reread by families at Christmastime and all the time!"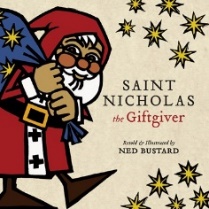 Saint Nicholas the Giftgiver tells the story of a very kind bishop whose generosity was motivated by his devout faith. That generosity has inspired people all over the world for generations and gave birth to the legend of Santa Claus.
Author and illustrator Ned Bustard said, "I have been working on it on and off for over two decades—writing and rewriting it to try and get the balance right. I love church history, and I love stories of enchantment, and in this book I have sought to combine them both together. My hope is that Saint Nicholas the Giftgiver will stir together history and legends in such a way as to provide wonder."
Bustard is a graphic designer, children's book illustrator, author, and printmaker, and he has lectured at colleges, schools, churches, conferences, and bars. Some of the books he has written, illustrated, or edited include It Was Good: Making Art to the Glory of God, The Chronicles of Narnia Comprehension Guide, Bede's History of ME, History of Art: Creation to Contemporary, Reformation ABCs, and Revealed: A Storybook Bible for Grown-Ups.
Bustard said, "Saint Nicholas the Giftgiver embraces both the truth and the legends swirling around Bishop Nicholas to form a fresh story that is historical, theological, and magical. My illustrations are all hand-carved block prints to give the book a rooted, historic feeling. Fantastic yet grounded in reality, Saint Nicholas the Giftgiver is a brand new–old story that features a jolly old man with a sack of gifts he carries on his back, but it centers on the greatest Giftgiver . . . and his amazing gift of his Son, Jesus Christ."
For a complete list of children's titles from IVP, visit IVPKids.com.
Contact: Krista Clayton, 630.734.4013, kclayton@ivpress.com