First-ever "Halley's Study Bible" released
by Zondervan Bibles
Journey through God's Word with a knowledgeable guide: NIV Halley's Study Bible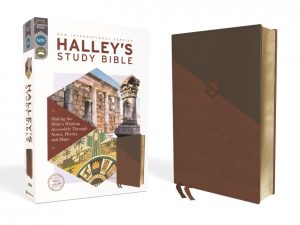 Grand Rapids, Mich., March 2020 – Zondervan Bibles, a division of HarperCollins Christian Publishing, is pleased to announce the release of the first-ever NIV Halley's Study Bible.
With content gleaned from the Halley's Bible Handbook—the bestselling Bible handbook of all time—the NIV Halley's Study Bible makes the Bible accessible through articles, study notes, charts, maps, and photos next to related Scripture.
"Henry H. Halley had the high aim to make the Bible accessible for everyone, and he clearly succeeded based on the success of the Halley's Bible Handbook," says Melinda Bouma, vice president and publisher of Zondervan Bibles. "We are honored to expand that impact through this new study Bible. This pairing of Halley's written work with stunning, four-color visuals and the bestselling NIV translation will equip more readers to understand their Bible better—and what could be better than that?"
For the first time, Henry Halley's insights are conveniently placed within a study Bible in the world's bestselling modern-English Bible translation, the New International Version in Zondervan's exclusive NIV Comfort Print® typeface. Halley's own notes are paired with new photography of archaeological findings and biblical places. Also included are insightful verse-by-verse study notes from a proprietary note system.
Features:
Complete text of the accurate, readable, and clear New International Version (NIV)
Over 750 articles, charts, and maps, gleaned from the bestselling Bible handbook of all time, Halley's Bible Handbook
Full color throughout with over 150 photos of ancient sites, Holy Land topography, and archeological finds
Over 6,000 bottom-of-the-page study notes
Concordance with over 10,000 Scripture references
Words of Jesus in red
Two satin ribbon markers
Exclusive Zondervan NIV Comfort Print® typeface
9-point print size
"Halley's Bible Handbook was the first of its kind. It defined the Bible handbook category and set a standard of excellence and accessibility for students of the Bible," said Stan Gundry, SVP and editor-in-chief, Zondervan. "Taking the updated and expanded notes of the most recent edition of Halley's and adapting them for use in a study Bible advances Dr. Halley's original intention of providing a resource for the average Bible reader who has few resources for understanding the Bible."
Henry Halley's passion to spread biblical literacy began with a simple pamphlet and grew into the Halley's Bible Handbook with more than six million copies in print.
NIV Halley's Study Bible is available now:
To request a review copy of the NIV Halley's Study Bible, please email amy.bigler@harpercollins.com.
About Comfort Print:  Zondervan Bibles teamed up with 2K/Denmark, the world's foremost Bible typeface foundry, to create exclusive Comfort Print Bible fonts. Comfort Print Bibles are easy to read at any size because the typeface was designed to be both efficient and readable. Zondervan Bibles believes that the beauty of the message should be reflected in the physical form of the book. Choosing the right typeface is one significant element in creating beautiful Bibles.
Zondervan is a world leading Bible publisher and provider of Christian communications.  Zondervan, part of HarperCollins Christian Publishing, Inc., delivers transformational Christian experiences through its bestselling Bibles, books, curriculum, academic resources and digital products. The Company's products are sold worldwide and translated into nearly 200 languages. Zondervan offices are located in Grand Rapids, Mich. For additional information, please visit www.zondervan.com.
Contact:  Amy Bigler, Senior Public Relations Manager, amy.bigler@harpercollins.com  616.698.3514