Finding Gobi becomes an international bestseller
Dion Leonard hits several bestseller lists in the US, Canada, and UK – 
including the New York Times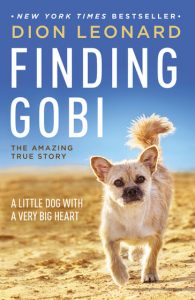 (Nashville, Tenn.) September 26, 2017 – The wildly successful memoir Finding Gobi, a part of a HarperCollins Global Publishing Project, has become an international bestseller. 
In the United States Finding Gobi, which was released in June, has made its way to the New York Times, Wall Street Journal, Publishers Weekly, UK Sunday Times and bestseller lists in Australia New Zealand and USA Today bestseller lists. The book has been various best seller lists for 12 weeks and counting.
Finding Gobi is 
a memoir based on an international news story, centered around 
Dion Leonard
, an ultramarathoner who befriends a stray dog in 
China's
 harsh Gobi Desert. 
The young dog, who later earned the name "Gobi," proved that what she lacked in size, she more than made up for in heart as she went step for step with Dion over the Tian Shan Mountains, across massive sand dunes, through yurt villages, and past the black sands of the Gobi Desert, keeping pace with him for nearly 80 miles of the 155-mile race.
Before Dion could take her home, Gobi went missing in the sprawling Chinese city where she was being kept. With the help of strangers and a viral, global outpouring of assistance on the internet, he tracked her down, reuniting forever with the amazing animal that changed his life and has captured the hearts of millions worldwide. The impact and inspiration from this story has led to the development of a movie with Twentieth Century Fox Film. 
Paul de Souza, who discovered the story after it became a viral internet sensation, is producing and shepherding the project.
In addition to the adult trade book, additional products have been developed to include a young reader's edition as well as a children's picture book out on August 29th. A board book, Finding Gobi for Little Ones, will release in February 2018. In addition to the book already released in English and Spanish in the United States, Canada, and the United Kingdom; Finding Gobi will be published in Chinese, Japanese, Korean, Danish, Dutch, Finnish, German, Italian, Polish, Portuguese, Swedish, and Vietnamese.
Dion Leonard is a 42-year-old Australian who lives in Edinburgh, Scotland, with his wife Lucja. Dion has not only completed but competed in some of the world's toughest ultra-marathons across the planet's most inhospitable landscapes. This includes running across the brutal Moroccan Sahara Desert twice in the 250km Marathon Des Sables and also twice across South Africa's Kalahari Desert, also 250km. 
About Thomas Nelson: Thomas Nelson is a world leading publisher and provider of Christian content and has been providing readers with quality inspirational products for more than 200 years. As part of HarperCollins Christian Publishing, Inc., the publishing group provides multiple formats of award-winning Bibles, books, gift books, cookbooks, curriculum, and digital content, with distribution of its products in more than 100 countries. Thomas Nelson is headquartered in Nashville, TN. For additional information visit www.thomasnelson.com.