Financial advisor of over 20 years, entrepreneur, and author helps women move past financial fear into peace
New TV Series "Faithful Finance LIVE" Now Streaming on Pure Flix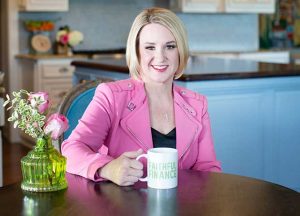 Fort Worth, Texas (January 2021) — Today, more than ever, women are filling executive roles in the workplace and passionately pursing their dreams as entrepreneurs. Yet, many are still learning the bare minimum when it comes to finances or leaving the financial planning decisions to their husbands. Entrepreneur, financial advisor of more than 20 years, and the author of the popular Zondervan book: Faithful Finance, Emily G. Stroud passionately helps people move past fear to find joy and peace in their personal finances.
In time for the new year, Stroud is continuing her popular brand with the new TV series "Faithful Finance LIVE." Stroud and her co-host, motivational speaker and singer, Alison Gengelbach, direct viewers to take control of their financial futures without the feelings of fear or guilt. They also invite inspiring guests, including a two-time Olympic gold medalist, to share their unique stories of making positive impacts on the world.
The 30-minute talk show is debuting four pilot episodes and is now available for viewing on Pure Flix, a division of SONY Entertainment and the top streaming service for faith-based and family-focused media.
"How we manage our money must be intertwined with our faith and values," said Stroud. "Money is not evil, and it should be used as a tool to purposely bless our families and others. Our new series shows viewers how biblically based financial planning is a source of joy, security, and hope."
When Stroud and her husband became parents, they left behind their busy city lives and moved into a peaceful farmhouse. Stroud then took the leap of faith to move the offices of her thriving financial firm to her home, with the dream of more family time, and having the opportunity to have intimate discussions with her clients about their unique financial hopes, dreams, and fears. After a year of living in the farmhouse with a successful business and being closer than ever with her family, Stroud felt called to share her story outside of her Fort Worth clientele, and as a result, she wrote the successful book Faithful Finance: 10 Secrets to Move from Fearful Insecurity to Confident Control. Now she is inviting viewers everywhere into her farmhouse to encourage them to plan for living – not dying.
The new series discusses:
Top financial planning issues
Stories of those making a greater impact on the world
Our emotional, habitual expenses that are putting us over budget
Why charitable giving should be a top priority
Making room for intentional travel
Developing a budget – the #1 tool to achieve financial freedom
How to turn a dream into a reality
In her book Faithful Finance: 10 Secrets to Move from Fearful Insecurity to Confident Control (Zondervan, 2018) Stroud offers ten life-changing secrets that work in every financial situation, for every income level, at every stage of life. With engaging stories and practical examples, Stroud empowers readers to make choices that will allow them and their loved ones to enjoy financial freedom.
About Emily Stroud
Emily Stroud is the host of the new TV series "Faithful Finance LIVE" streaming on Pure Flix and the author of Faithful Finance: 10 Secrets to Move from Fearful Insecurity to Confident Control. She owns and manages the investment firm Stroud Financial Management, Inc and holds the prestigious Chartered Financial Analyst credential. Before launching her business, Stroud held financial planning and banking positions with some of the country's leading companies including J.P Morgan Chase Private Bank. Emily resides in Fort Worth with her husband and two kids.
Visit FaithfulFinance.com to learn more.