Finalists announced for 2017 Christian Book
Award® program
ECPA names 59 books in 11 categories as the year's best Christian books and Bibles
Four ties and expanded categories represent breadth and excellence produced this year in Christian publishing; with 23 publishers and 73 authors represented

(PHOENIX, ARIZ., March 31, 2017) The Evangelical Christian Publishers Association (ECPA) named today 59 Finalists for the 2017 Christian Book Award® program.  These titles represent the industry's best books and Bibles of the year in eleven categories, including the newly added categories of Faith & Culture, Biography & Memoir, Young People's Literature, Ministry Resources, and Bible Study.  These additions coincided with ECPA merging the Fiction category with The Christy Award™ program. Christian fiction finalists will be announced this fall.
"On behalf of ECPA and its members, I want to congratulate the authors and publishers who produced the 59 Christian Book Award® finalists for 2017," said Stan Jantz, ECPA's executive director. "These finalists emerged from a rigorous judging process and represent the best our industry produced this past year. Even more important is the impact these excellent books, Bibles, and resources are having on the church and wider culture."
THE FINALISTS OF THE 2017 CHRISTIAN BOOK AWARD® PROGRAM ARE:
BIOGRAPHY & MEMOIR

Colors of Goodbye, September Vaudrey
Tyndale Momentum, 9781496408174
Courageous Faith, Charles Stanley
Howard Books, a division of Simon & Schuster, 9781501132698
Eight Women of Faith, Michael A.G. Haykin
Crossway, 9781433548925
My Brother's Keeper: Christians Who Risked All to Protect Jewish Targets of the Nazi Holocaust, Rod Gragg
Center Street, a division of Hachette Nashville , 9781455566297
The Passionate Preaching of Martyn Lloyd-Jones, Steven J. Lawson
Reformation Trust Publishing (Ligonier), 9781567696387
---
CHRISTIAN LIVING

Happiness, Randy Alcorn
Tyndale House Publishers, 9781414389349 
Parenting: The 14 Gospel Principles That Can Radically Change Your Family, Paul David Tripp,
Crossway, 9781433551932
Searching the Scriptures, Charles R. Swindoll
Tyndale House Publishers, 9781414380650
Shaken, Tim Tebow
WaterBrook, 9780735289864
Zeal Without Burnout, Christopher Ash
The Good Book Company, 9781784980214
---
FAITH & CULTURE

75 Masterpieces Every Christian Should Know, Terry Glaspey
Baker Books/ Baker Publishing Group, 9780801017100
Befriend, Scott Sauls
Tyndale House Publishers, 9781496400949
Impossible People: Christian Courage and the Struggle for the Soul of Civilization, Os Guinness
InterVarsity Press, 9780830844654
No God but One: Allah or Jesus?, Nabeel Qureshi
Zondervan, 9780310522553
Seeking Refuge: On the Shores of the Global Refugee Crisis, Stephan Bauman, Matthew Soerens, and Dr. Issam Smeir
Moody Publishers, 9780802414885
You Are What You Love, James K. A. Smith
Brazos Press/ Baker Publishing Group, 9781587433801
---
CHILDREN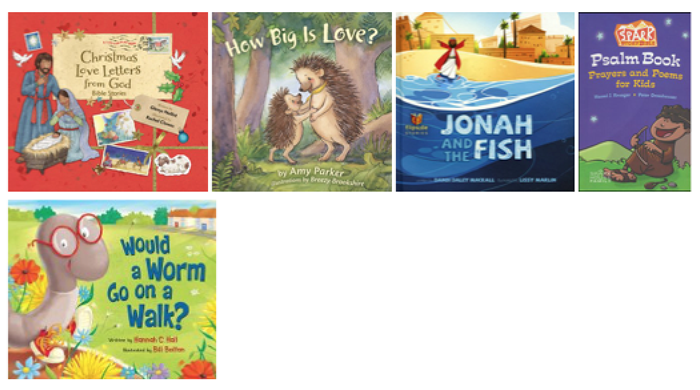 Christmas Love Letters from God, Glenys Nellist, Illlustrated by Rachel Clowes
Zondervan, 9780310748243
How Big is Love?, Amy Parker, Illustrated by Breezy Brookshire
B&H Publishing Group, 9781433690426
Jonah and the Fish, Dandi Daley Mackall, Illustrated by Lissy Marlin
Tyndale House Publishers, 9781496411204
Spark Story Bible Psalm Book: Prayers and Poems for Kids
Judy Beglau, Micha Boyett, Lisa Marie Brodsky Auter, Jennifer Grant, Carol Hegberg, Cathy M. Kolwey, Claudia Rosemary May, Cathy Skogen-Soldner, Michelle Van Loon, Edited by Naomi J Krueger, Illustrated by Peter Grosshauser
Sparkhouse Family, 9781506417684
Would a Worm Go on a Walk?, Hannah C. Hall, Illustrated by Bill Bolton
WorthyKids/Ideals, 9780824956776
---
YOUNG PEOPLE'S LITERATURE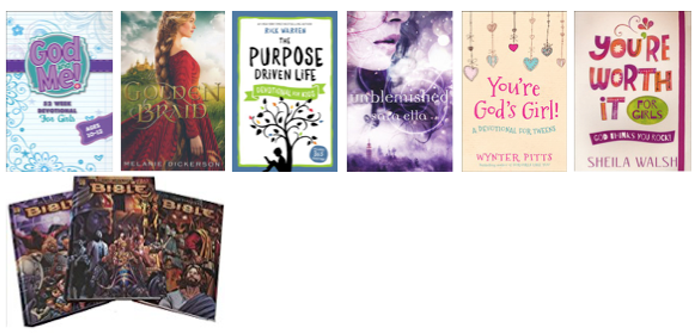 God and Me 52 Week Devotional for Girls Ages 10-12, Linda Washington, Jeannette Dall, and Kathy Widenhouse
Rose Publishing, 9781584111788
The Golden Braid, Melanie Dickerson
Thomas Nelson, 9780718026264
Kingstone Bible Trilogy, Randy Alcorn, Ben Avery, Art Ayris
Kingstone, 9781613281949
The Purpose Driven Life Devotional for Kids, Rick Warren
Zondervan, 9780310750468
Unblemished, Sara Ella
Thomas Nelson, 9780718081010
You're God's Girl!, Wynter Pitts
Harvest House Publishers, 9780736967365
You're Worth It for Girls, Sheila Walsh
Harvest House Publishers, 9780736963879
---
DEVOTION & GIFT

31 Verses to Write on Your Heart, Liz Curtis Higgs
WaterBrook, 9781601428912
A Spectacle of Glory, Joni Eareckson Tada with Larry Libby
Zondervan, 9780310346777
Blessings for Women, Susie Larson
Bethany House/ Baker Publishing Group, 9780764218422
Grace, Randy Alcorn
Harvest House Publishers, 9780736967464
Live Original Devotional, Sadie Robertson
Howard Books, a division of Simon & Schuster, 9781501126512
---
NEW AUTHOR

A Woman's Place, Katelyn Beaty
Howard Books, a division of Simon & Schuster, 9781476794099
Keeping Your Kids on God's Side, Natasha Crain
Harvest House Publishers, 9780736965088
Riley Unlikely, Riley Banks-Snyder
Zondervan, Riley Banks-Snyder, 9780310347873
Unblemished, Sara Ella
Thomas Nelson, 9780718081010
Union With Christ, Rankin Wilbourne
David C Cook, 9781434709387
---
BIBLES

The Complete Jewish Study Bible
Hendrickson Publishers, Messianic Jewish Publishers & Resources, 9781619708679
NIV Cultural Backgrounds Study Bible, Craig S. Keener, John H. Walton, Editors
Zondervan, 9780310431589
Girls Life Application Study Bible, NLT
Tyndale House Publishers, 9781414397788
Hidden in My Heart Scripture Memory Bible, NLT
Tyndale House Publishers, 9781414381671
Inspire Bible NLT: The Bible for Creative Journaling
Tyndale House Publishers, 9781496413741
---
BIBLE REFERENCE WORKS

A History of Western Philosophy and Theology, John M. Frame
P&R Publishing Company, 9781629950846
Biblical Authority after Babel, Kevin J. Vanhoozer
Brazos Press/ Baker Publishing Group, 9781587433931
Genesis (The Story of God Bible Commentary), Tremper Longman III
Zondervan, 9780310496076
The Mind of the Spirit, Craig S. Keener
Baker Academic/ Baker Publishing Group, 9780801097768
New Dictionary of Theology: Historical and Systematic
Martin Davie, Tim Grass, Stephen R. Holmes, John McDowell and T. A. Noble
InterVarsity Press, 9780830824557
---
BIBLE STUDY

Half Truths: God Helps Those Who Help Themselves and Other Things the Bible Doesn't Say
Adam Hamilton
Abingdon Press, 9781501813870
Marriage and the Mystery of the Gospel, Ray Ortlund
Crossway, 9781433546877
Messed Up Men of the Bible, Tina Samples & Dave Samples
Kregel Publications, 9780825443831
Saving the Bible From Ourselves: Learning to Read and Live the Bible Well, Glenn Paauw
InterVarsity Press, 9780830851249
Word Writers: Philippians, Denise J. Hughes
Harvest House Publishers, 9780736968478
---
MINISTRY RESOURCES

Adoptive Youth Ministry, Chap Clark
Baker Academic/ Baker Publishing Group, 9780801049705
Leadership Mosaic: 5 Leadership Principles for Ministry and Everyday Life
Daniel Montgomery with Jared Kennedy
Crossway, 9781433552557
Teaching the Next Generations, Terry Linhart
Baker Academic/ Baker Publishing Group, 9780801097614
Who Moved My Pulpit?, Thom S. Rainer
B&H Publishing Group, 9781433643873
The Whole Christ: Legalism, Antinomianism, and Gospel Assurance—Why the Marrow Controversy Still Matters, Sinclair B. Ferguson
Crossway, 9781433548000
The Worship Pastor: A Call to Ministry for Worship Leaders and Teams, Zac Hicks
Zondervan, 9780310525196
The Christian Book Award® winners in each category, plus the 2017 Christian Book of the Year®, will be named May 2nd at the ECPA Awards Celebration held during the ECPA Leadership Summit in Colorado Springs.
The announcements will coincide with a social media blitz through Thunderclap.  Through a quick sign-up, participants allow Thunderclap to send a one-time-only post to their followers on May 2nd, resulting in a huge blitz of awareness for the Christian Book Awards® and #GoodBooks that #FeedYourSoul. Last year's campaign reached over half a million with this important campaign.
Anyone with a Twitter, Facebook or Tumblr account is invited to join the one-time campaign at http://thndr.me/4s7CYp.
Christian Book Award finalists and winners will also be promoted through multiple retail and media outlets including media sponsor Christianity Today and the following retailers: Amazon, Barnes&Noble, ChristianBook.com, Covenant Group, LifeWay Christian Stores, Parable Christian Stores, and the Signature Marketing Network.
To learn more, visit ChristianBookAwards.com.
>> View the 2017 Finalists
>> Join the Thunderclap social media campaign
>> Register for the ECPA Leadership Summit (includes Awards Celebration)
>> Purchase Awards Celebration Dessert tickets (if not already attending Leadership Summit)
The Christian Book Award® program has recognized the absolute highest quality in Christian books since 1978. Based on excellence in content, literary quality, design, and impact, the Christian Book Award® program is the oldest and among the most prestigious awards in the religious publishing industry.  ChristianBookAwards.com@CBAwards #ChristianBookAwards
The Evangelical Christian Publishers Association (ECPA) is an international non-profit trade organization comprised of member companies that are involved in the publishing and distribution of Christian content worldwide. Since 1974, ECPA has strengthened Christian publishing by building networking, information, and advocacy opportunities within the industry and throughout multiple channels so that our members can more effectively produce and deliver transformational Christian content. For more information about ECPA: info@ecpa.org  ECPA.org  @ECPA
Media contacts:
Stan Jantz, ECPA Executive Director, sjantz@ecpa.org, 480-966-3998
Cindy Carter, ECPA Awards & Recognition Manager, ccarter@ecpa.org, 480-966-3998
The Christy Award™ is a registered trademark of ECPA.
The Christian Book Award® and Christian Book of the Year® are registered trademarks of ECPA.