Female Christian leaders encourage women to pursue theology, discover God's unique calling during Faithlife Live virtual event
Sharon Hodde Miller, Trillia Newbell and Wendy Widder provide wisdom and insight in honor of Women's History Month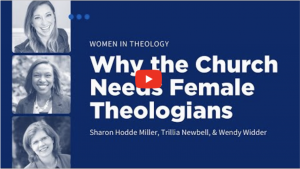 BELLINGHAM, Wash., March 11, 2021 – Christian authors, speakers and writers Sharon Hodde Miller, Trillia Newbell and Wendy Widder joined Faithlife, makers of integrated church technology products including Logos Bible Software, yesterday for a live discussion in honor of Women's History Month about women, theology and the Church.
The discussion, hosted by Jennifer Grisham, a Faithlife content strategist and former church leader, included a number of topics including the overall value of women and their unique service to the Church.
"Generally speaking, women have a different perspective (from men) and a different set of life experiences," said Widder, an author and educator with a Ph.D. in Near Eastern studies, an M.A. in Hebrew and Semitic Studies, and an M.Div. with an emphasis in educational ministries. "We see the world differently – as everyone does – but the Church misses that when they don't hear us."
Newbell, Acquisitions Editor at Moody Publishers and author of numerous titles including A Great Cloud of Witnesses, Sacred Endurance, If God Is For Us, Fear and Faith, and the children's books, Creative God, Colorful Us and God's Very Good Idea, noted that women are part of the Body of Christ and valuable to God and one another.
"We have to have a women's perspective because we want to serve people in all the various ways and circumstances people find themselves in," Newbell said. "There are situations a male can't speak into well without that female perspective. Period. They just can't."
The speakers noted the unique calling on women's lives and encouraged women to embrace and discover their God-given giftings.
"Calling looks different for everyone. There is not one single narrative of calling," said Miller, who leads Bright City Church in Durham, North Carolina, with her husband Ike and has a Ph.D. on women and calling. "The one thing I encourage people to do as they are assessing their calling, is to utilize the greatest resource God has gifted you, which are the people in your life who love the Lord and listen to the Holy Spirit. Ask them, 'What gifts do you see in me?' They know you better than anyone."
Widder affirmed Miller's advice, noting women should take opportunities to serve in a variety of ways. "You find your place of calling by serving, trying and failing, filling in where you're needed and discovering that's not the place for you," Widder said. "You will find God steers you in certain ways. In the end, God's calling might be different than what you think. That doesn't mean you missed the call, but we don't always get the full picture God has for our lives."
The leaders also challenged the Church to make space for women to serve by developing a culture of stewardship in terms of people's unique gifts churchwide.
"Don't miss the opportunity to say 'I see this in you.' God will use that to direct them to the place God has for them," said Miller. "Make this a part of your culture. Name the gifts of women around you. Honor your tradition but give women the opportunity to use their gifts for the Church."
Finally, though, the leaders applauded the uptick of women attending seminary and graduate school. Newbell, who does not have formal training, reminded viewers that growing in theological knowledge does not have to include attending school.
"Theology is important because it is what we believe about God," Newbell said. "You can read books and be educated where you are and you should. We are called to make disciples of all nations. We are called to train and teach. When we do this, it strengthens the Body because we are part of the church."
In order to assist women with growing in their biblical knowledge, Faithlife offers a number of books and coursework from the three featured speakers and other notable female theologians, at fl.vu/womenintheology. The company also offers a free version of Logos Bible Software available for download at logos.com/basic.
"There has never been a time with such access to resources. There is a glut of resources and material and a whole lot of it is free," said Widder. "If you take the time and put in the effort, you can probably educate yourself in a whole lot of ways without ever leaving your desk or your couch."
To view the full live event discussion with Newbell, Miller and Widder, visit fl.vu/womenintheology. Additionally, during Women's History Month in March, Faithlife is giving away bundles of resources created by women to women currently in seminary or on church staff. Entry details can also be found at fl.vu/womenintheology.
About Faithlife:  Faithlife, based in Bellingham, Washington, with offices in Arizona and Mexico, has been using technology to equip the Church to grow in the light of the Bible for more than 25 years. Since 1992, Faithlife has developed a full suite of church management tools, academic study resources, smart digital books, and Logos Bible Software, all part of its integrated ministry platform that automates tasks and simplifies workflows. For more information, visit Faithlife.com.