Famous penguins from Chicago's Shedd Aquarium delight in new picture nook from Tommy Nelson
Edward and Annie: A Penguin Adventure takes children on an adventure of wonder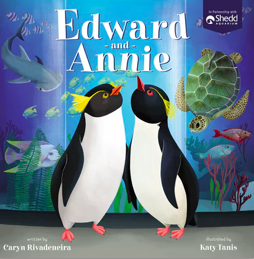 NASHVILLE, Tenn. (Jan. 20, 2022) — Tommy Nelson, the children's division of Thomas Nelson Publishers, will release a delightful, new, illustrated picture book on March 1, 2022 in partnership with Chicago's Shedd Aquarium, one of the top aquariums in the country. Edward and Annie: A Penguin Adventure focuses on the penguin field trips that went viral and took the world by storm as the COVID-19 pandemic first emerged. The book, which is now available for presale across several major vendors, is written by award-winning author and Chicago suburb resident Caryn Rivadeneira with charming artwork from accomplished illustrator Kat Tanis.
Rockhopper penguins Edward and Annie soared to superstar status in the spring of 2020 during the height of the COVID-19 pandemic, when Shedd Aquarium was closed to outside guests. Because there were no humans roaming, Edward and Annie could freely explore the exhibits and visit other aquatic animals across the building. Their adorable field trips, which are a regular part of the birds' welfare plan at Shedd, were documented on video and soon after, went viral online, soliciting responses from all seven continents. This new children's book beautifully captures their adventures, reminding readers that adventures are best enjoyed with a friend.
"Edward and Annie's field trips illustrate the curiosity that the aquatic animal world can inspire in all of us," said Peggy Sloan, Chief Animal Operations Officer at Shedd Aquarium. "We are thrilled to see Edward, Annie and so many other incredible Shedd residents immortalized in a new book that will inspire the next generation of animal lovers."
Shedd Aquarium has also made a commitment that a portion of proceeds from the sale of this book will support penguin conservation in the wild and ongoing penguin care at Shedd Aquarium.
Beyond connecting nearly two million guests to the aquatic animal world each year, Shedd Aquarium is committed to scientific research, rescue and rehabilitation and aquatic conservation. The aquarium helped rehabilitate and release endangered African penguins in South Africa from 2014 until early 2020. Back at home, Shedd works alongside accredited aquariums and zoos to build genetically diverse and sustainable populations of Southern rockhopper and Magellanic penguins in human care.
PRESS KIT:
Photos/videos of Edward and Annie, including their field trips, as well as penguin fact sheets and previews of the new book are available to view and download here: https://personal.filesanywhere.com/fs/v.aspx?v=8e6c688c586173b4b4a2
Photo Credit: ©Shedd Aquarium
About the book
When no one comes to visit the aquarium, penguin pair Edward and Annie ponder – "Where did everyone go?" This colorful romp through Chicago's Shedd Aquarium takes children of all ages on an adventure of wonder through the marine world. As Edward and Annie explore the unknown parts of their aquarium home and meet the other wonderfully unique creatures living there, these penguin friends discover that the world is much bigger and more interesting than they ever knew. After much excitement and many surprises, they return to the penguin habitat for the best end to any day: a cozy rest at home.
Edward and Annie: A Penguin Adventure (ISBN: 9781400228287) is available for pre-order and will be released March 1, 2022 everywhere books are sold. Visit thomasnelson.com/p/edward-annie for more information.
About the author, Caryn Rivadeneira
Caryn Rivadeneira writes stories that spark wonder, fuel curiosity, and craft worlds that help kids find their place in this one. She is the author of books for children and adults, including the Moonbeam Award-winning Helper Hounds series, Grit and Grace: Heroic Women of the Bible, Edward and Annie: A Penguin Adventure, and Saints of Feather and Fang: How the Animals We Love and Fear Connect Us to God. Caryn lives in the western suburbs of Chicago with her husband, three kids, and two rescued pit bulls.
About the illustrator, Katy Tanis
Katy Tanis is an illustrator, explorer, and children's book author. She lives and works at the Jersey shore. She is currently pursuing a master's degree in biology through Miami University in partnership with Wildlife Conservation Society. She spends most of her days chasing deadlines but occasionally wanders to far-off places, like Madagascar, where she chases primates instead. Her work is inspired by specific ecosystems and the wonderful webs of life that they contain. She has a soft spot for the weirdos of the animal kingdom, and she's never met a color she didn't like.
About Shedd Aquarium
The John G. Shedd Aquarium in Chicago sparks compassion, curiosity and conservation for the aquatic animal world. Home to 32,000 aquatic animals representing 1,500 species of fishes, reptiles, amphibians, invertebrates, birds and mammals from waters around the globe, Shedd is a recognized leader in animal care, conservation education and research. An accredited member of the Association of Zoos & Aquariums (AZA), Shedd is an affiliate of the Smithsonian Institute and is supported by the people of Chicago, the State of Illinois and the Chicago Park District.
www.sheddaquarium.org 
About Tommy Nelson
Tommy Nelson® is the children's division of Thomas Nelson. As a leading provider of Christian content, Tommy Nelson publishes a wide variety of high-quality, enjoyable products that are consistent with the teachings found in the Bible. Tommy Nelson's award-winning products are designed to expand children's imaginations and nurture their faith while inspiring them to develop a personal relationship with Jesus. For more information, visit www.tommynelson.com.
Media contact:  Natividad Lewis, Publicist, 931.698.9620, natividad.lewis@harpercollins.com