FaithWords releases "The Most Beautiful Disaster" by Hope Carpenter
Hope Carpenter nearly destroyed her family, her church, and her ministry by living a double life, but then God did something miraculous. Out of her brokenness, He made something beautiful.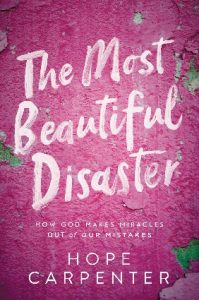 In THE MOST BEAUTIFUL DISASTER (FaithWords, May 4, 2021, ISBN: 9781546017486), Hope helps readers understand the lasting impact of childhood trauma and gives readers practical steps to uncovering the root of pain in their own lives. She shows how small decisions can lead to big changes, and helps readers find healing and wholeness in Scripture and prayer. Ultimately, readers will be led to hope, reconciliation, and true freedom.
As co-pastor of one of the nation's largest megachurches, Hope Carpenter had perfected the roles of supportive wife, good mother, devoted worship leader, and dutiful homemaker. But inside, she was secretly ashamed, sad, and afraid. She didn't know who she was, and she didn't know how to ask for help without bringing down the whole façade. A series of bad choices led to multiple affairs; her husband kicked her out and announced from the pulpit of their church that their marriage was over.
"This book is raw and honest. It might make you flinch, and it might make you think less of me. That's okay, because I'm no longer concerned with living for the accolades of others. This book will challenge you. You're going to have to stop trying so hard to convince people that everything is great and take a good, hard look at the places deep inside you that maybe aren't actually all that great. You're going to make yourself vulnerable, and I know that can be scary. Been there, done that, got the T-shirt."
–THE MOST BEAUTIFUL DISASTER
Hope was sure her life was done. But in her lowest moments, something beautiful happened. God met her there, and, with a lot of hard work, time, and mountains of therapy, she started to understand the pain that had caused her to act out. She and her family faced their brokenness together, and in powerful acts of forgiveness only God could have arranged, they all found real breakthrough and healing. Ron and Hope rebuilt their marriage and their family, and their ministry thrives today.
Hope Carpenter is the cofounder of Redemption Church, a megachurch that started in Greenville, South Carolina. The church has satellite locations in San Jose, California; Raleigh, North Carolina; and the Dominican Republic. Redemption Greenville has weekly attendance in excess of 20,000 and the San Jose campus has approximately 6,000. Hope and her husband, Ron, live in San Jose, California and Greenville, SC.
FAITHWORDS
On Sale Date: MAY 04 2021
US/Can: $26.00 (T) / $33.00 (T)
Format/Sub: HARDCOVER BOOK
ISBN-13: 9781546017486